A press brake is a machine used in manufacturing to bend sheet metal. In general, press brakes are long and narrow pieces of equipment.
The design of a press brake is catered to allow the machine to have sheet metal placed in it for bending. The sheet metal is positioned on top of a die, then a punch is lowered onto sheet metal. The sheet metal can be bent several times by the press brake, or until the needed form is achieved.
Press brakes are used in many industries and have been in circulation in the manufacturing world for decades.
Over time, press brakes have evolved with other equipment around them to stay relevant. Press brakes are used in the formation of automotive panels, airframes, metal artwork, furniture, metal containers, and other applications across a wide range of industries.
1. Decoration Industry

In the decoration industry, press brakes are a mainstay. High-speed CNC plate shearing machines and CNC press brakes are used together in the production of stainless steel doors and windows, elevators, and other special decoration items.
Stainless steel doors and windows come in many different sizes and shapes. These doors and windows need to fit in different areas and some areas have certain limitations or restrictions due to the design of the houses or buildings. Press brakes can bend the sheet metal parts of the doors and windows, in the early stages of production, to fit these design needs.
Stainless steel can be used in areas with high anti-corrosion requirements or decorative furniture, such as stainless steel doors and windows. It has strong anti-corrosion and luster, and its insulation performance is superior to ordinary one of the same structure. When stainless steel doors and windows manufacturing, we will use sheet metal cutting equipment, bending machines, welding equipment, polishing machines, and so on.
Click here to know Stainless Steel Doors And Windows Manufacturing And Characteristics
Elevators are almost completely made of metal. There are many components to elevators, and they must fit a specific design to function. Press brakes bend many of the metal components that will be used to construct the elevators.
2. Electrical and Power Industry

The electrical and power industry makes use of press brakes for a wide variety of applications. Air conditioning shells, electrical cabinets, and refrigerators all have components that are made with the use of press brakes. Shearing machines cut the plate into different sizes, then the press brake is used to process the metal components again.
Many appliances used in the home that have metal components are produced with the use of press brakes. Curved sides or rounded tops and ends are formed with press brakes. Press brakes bend the sheet metal that needs to be bent to form around a separate interior.
If a metal casing is needed, or the surface of an appliance requires metal to be formed in a curved way press brakes are used to achieve the desired function.
In recent years, with the accelerated implementation of new infrastructure projects in various fields such as high-voltage power, charging stations, 5G networks, and data centers, the demand for the power industry has exploded, and electrical cabinets have ushered in a vast market.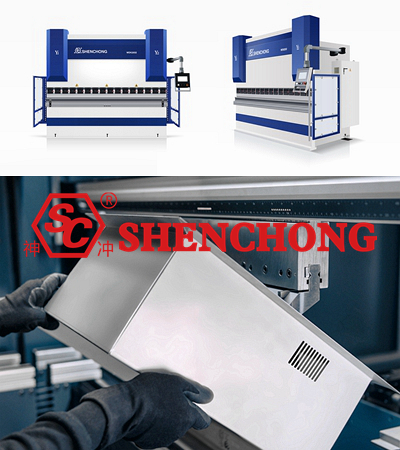 Electrical cabinets are made of sheet metal processing to protect the normal operation of components. In its sheet metal processing process, the bending process is often referred to as the "bottleneck process" due to its complexity, which affects the rhythm of the entire process. The quality of the bending process also directly affects the final size and appearance of the product.
How To Bend Electrical Cabinet Sheet Metal Parts?
Coal power refers to the use of thermal steam generated during coal combustion to convert steam energy into electrical energy through power generation devices, including coal-fired boilers, steam turbines, and generators. The coal power industry requires a large amount of sheet metal processing equipment for equipment manufacturing and accessory renovation, such as bending machines, shearing machines, rolling machines, and so on.
Coal Power Industry Equipment Bending Processing
3. Automobile and Ship Industry

The automobile and ship industry needs larger materials to be bent and crafted. Road vehicles and ships are big objects, and they require much larger parts than in most other industries.
In large manufacturing, industries need large tonnage press brake machines. Large CNC hydraulic shearing and large press brakes are used to create components and assist in achieving the desired shapes and size needed.
Ships need much larger individual pieces to construct the base and inner workings. High tonnage press brakes are longer and larger than average press brakes. Press brakes generate pressure in a controlled way to bend parts, and high tonnage press brakes can bend much more complex and sturdy types of components.
4. Aerospace Industry

The aerospace industry is an industry that needs precision and high efficiency. Airplanes and spacecraft are intricate and complex machines that require equally intricate and complex parts and components.
Presses, Press Brakes, Milling Machines, CNC Machines, Lasers, Forming and Stamping Equipment are used to create parts for the Aerospace industry.
High-precision, high-end CNC press brake machines are needed in the aerospace industry to craft components in the most precise ways. High-precision is the key for an industry that relies on exact measurements and specifications.
5. Kitchen and Catering Industry

The restaurant and home cookware industries require many appliances and tools that are stainless steel. Smaller tools like ladles, spatulas, meat presses, basting covers, metal domes to cover food on flat-top grills, and more are all crafted with the use of press brake bending.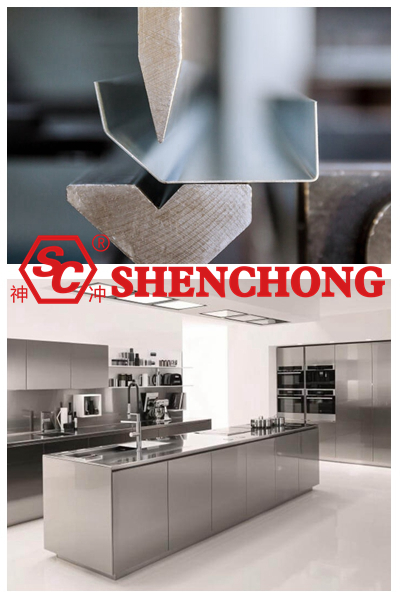 Large equipment like ovens, flat-top grills, backyard grills, microwaves, heating containers and elements, fryers, air fryers, and many others have components and parts that are created with press brake machines.
The kitchen and catering industry uses a variety of metal tools. Many of these tools have rounded edges or circular shapes and designs. These specifications are met with the usage of press brakes and their bending capabilities. It's not an industry one would typically think makes use of press brakes, but the need for press brakes is substantial.
Stainless steel materials have many advantages such as wear resistance, anti-corrosion and acid resistance. Surface smooth and easy to clean, usually will not rust and deform, etc. Therefore, now stainless steel has become the preferred material for kitchenware. It can be said that most of the kitchenware is made of stainless steel.
The kitchen cabinets and workbenches choose stainless steel because stainless steel is environmentally friendly, no need to worry about radiation. And stainless steel workbenches are not easy to breed bacteria.
Stainless steel kitchen cabinet production equipment refers to the equipment used to produce different stainless steel kitchenware, usually include cutting, bending, welding, polishing, manufacturing and other production process. These equipment can produce high-quality, environmentally friendly, safe and hygienic stainless steel kitchenware to meet people's needs.
What Stainless Steel Kitchenware And Kitchen Cabinet Production Process
6. Lamp Pole and Power Pole Industry

Communication tower poles, electric poles, light poles, traffic signal poles, traffic light poles, monitoring poles, and many other types are constructed with the use of press brakes. Tandem press brake machines are used often in this industry.
Street light poles refer to the poles used to install street lamps, known as light poles. They can be divided into iron road light poles, stainless steel road light poles, aluminum alloy road light poles, and so on.
With the increasing demand for street lighting, the market for its supporting products, street light poles, is also becoming increasingly large.
But you know what? In fact, there are different classifications of lampposts, and the materials used for street light poles also vary. According to the different materials used for street light poles, they can be divided into the 5 categories.
Click here Street Light Pole Production And Types
Bending is the most critical process in lamp pole production, and the quality of bending directly affects the quality of the lamp pole, and it cannot be repaired after bending. So choosing a suitable press brake machine manufacturer is very important. Usually, a tandem press brake bending machine is used to bend the customized bending mold into the desired cylindrical shape for customers.
Nearly all the types of poles mentioned above have rounded surfaces but are metal material. This specific design is achieved with the usage of press brake machines.
Press brake machines can bend the metal to make circular or rounded shapes. Traffic lights also have traffic signal boxes to direct the flow of traffic. Both pieces of equipment are crafted in part with the assistance of press brake machines.
7. Container Industry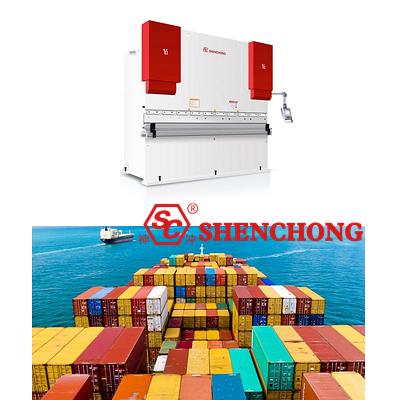 A container is a group of tools that can carry packaged or unpackaged goods for transportation and facilitate loading, unloading, and transportation using mechanical equipment.
The manufacturing and production of containers is an assembly line. A standard container consists of five parts: front end, rear end, chassis, top plate, and side plate. The container manufacturing process is divided into four primary processes: stamping, welding, spraying, and completion.
The manufacturing of these containers will use such sheet metal processing equipment, such as uncoiling lines, shearing machines, laser cutting machines, bending machines, CNC punching machines, and so on.
Container Manufacturing Process And Production Flow
8. Architectural Metal Cladding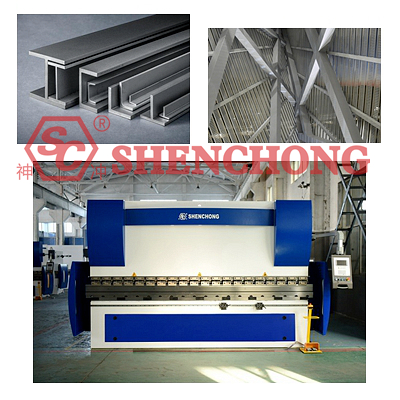 With the rapid development of the economy, large public buildings and high-rise buildings have developed rapidly. As a material characterized by lightweight, thin, large surface, and exquisite appearance, metal curtain walls have been rapidly applied in various fields of buildings. The metal curtain wall processing includes cutting, punching, grooving, bending, welding, polishing, corner coding, polishing, cleaning, air drying, spraying and coloring, and so on.
The processing and production of curtain wall components should meet the design and specification requirements in terms of size. The surface rust prevention treatment of metal components should comply with the relevant provisions of current national standards.
Architectural Metal Cladding: Metal Curtain Wall Processing and Application
9. Fire-fighting Equipment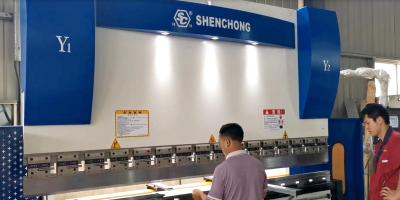 Firefighting equipment refers to various equipment used for fire prevention, extinguishing fires, and emergency rescue. There are various types of firefighting equipment, covering various aspects such as firefighting water sources, firefighting equipment, firefighting vehicles, etc. Firefighting equipment includes fire extinguishers, fire hydrant systems, demolition tools, fire detectors, alarm buttons, alarms, fire alarm controllers, etc.
Most of the shells and components of fire equipment are made of metal and require the use of various sheet metal processing equipment for production. Wuxi Shenchong CNC bending and shearing machines can be used for sheet metal processing of common fire equipment.
Fire Equipment CNC Press Brake Case
10. HVAC Equipment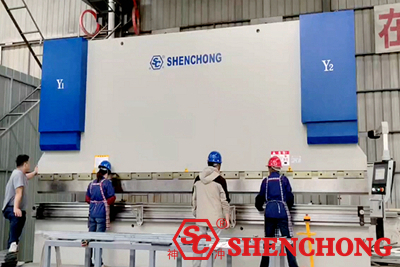 HVAC equipment belongs to the construction industry, which refers to the heating, ventilation, air conditioning, and water supply and drainage systems inside buildings.
CNC press brake machine can be used for sheet metal bending processing in HVAC equipment. Our customers are spread across various industries.
HVAC Equipment Press Brake Case
11. Medical Equipment Manufacturing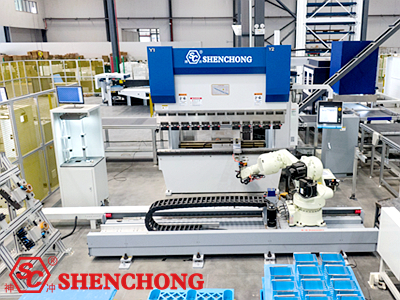 The manufacturing of medical equipment is a highly precise and complex process, so industrial automation technology has long been involved. Medical equipment sheet metal automation is an important application of automated production lines. The application of automation in medical equipment manufacturing is becoming increasingly widespread, becoming an important development direction for future medical equipment manufacturing.
The bending process in sheet metal medical equipment is also an important link. Automated bending equipment can achieve high-precision and high-efficiency bending, improving production efficiency and product quality.
Medical Equipment Manufacturing Robotic Press Brake
While various fields see continuous improvements, the requirements in those fields become more refined. High speed, high precision, and energy-saving are the future development trends of the CNC press brake machine industry.
Purchasing sheet metal equipment with higher configuration can not only improve work efficiency but also save labor costs. Every industry seeks to cut down on labor costs while maintaining and improving production.
The continued development and innovation brought by press brakes make those outcomes possible and viable for many industries.
The press brake has evolved over the decades to remain a fixture in production, and as industries continue to develop, the press brake will work alongside them to achieve the production needs that arise.
Manufacturing with the use of press brakes is growing as each year passes, and that trend does not look to be slowing down.
Visit here to know bending, shearing and rolling machine cases