Tandem CNC Press Brake For Sale
SHENCHONG has produced 1000Ton/12000mm 2WEK CNC tandem press brake machine, (1200Ton/10000mm+600Ton/4000mm) CNC tandem press brake with high precision and high efficiency.
The tandem press brake machine are used to bend heavy duty sheet metal plate. With different press brake dies, it could make various work-pieces, which are widely used in air-plane, shipment, auto, engineering machinery, lamp pole, light pole bending, electric power pole bending, transformer and other relative lines.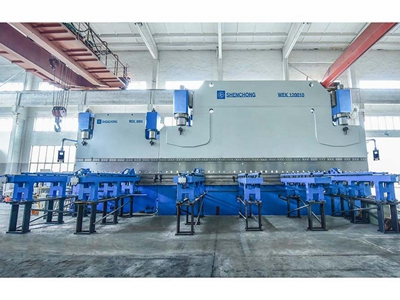 Intelligent Manufacturing Redefine Your Future!
Industrial CNC Tandem Press Brake / Light Poles Bending Machine / High Mast Poles Bending Press Brake
Sandblasted and sprayed with anti-rust paint, the machine frame is processed by imported CNC three-dimensional processing center, which ensures the parallelism and verticality of each installation. The frame is welded by steel plate of good rigidity and strength.
Electrical-hydraulic proportion valves linear encoder. The press in air and the one of different angles are available. Motorized rear sheet supporting fitting.
Industrial WE67K Tandem hydraulic press brake sheet metal bending machine is able to have 16+2 Axis.
- Y control numerical axis of oil cylinder on both sides
- X controls back gauge to move front and rear
- V for oil cylinder compensation
- Z refer to motorized side unloading device.
Heavy duty tandem press brake is driven by hydraulic pressure and controlled by CNC. Shenchong cnc hydraulic tandem press brake machine could attain quick down, slow-down of ram, pressure steady while working, quick returning and intermediate stop functions. It could be operated either single or double ways.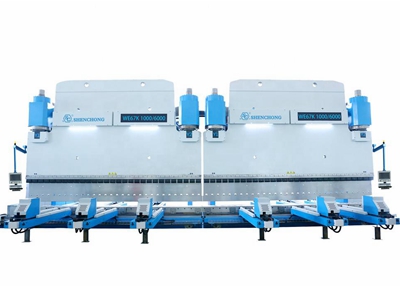 Tandem Heavy Duty Press Brake Advantages and differences:
- The tandem press brake is used to bend heavy duty sheet metal plate. Wuxi SHENCHONG connect two CNC press brakes together as a whole machine to do bending works.
- The two CNC press brake with two CNC controller system can work together or separate to bend workpieces independently.
- The back gauge and front feeding device of Shenchong tandem press brake are specially designed for large workpieces to reduce labor intensity and improve work efficiency.
- Price of singe press brake longer than 8000mm is very expensive, tandem press brake is a better choice for customer with bending request longer than 8000mm.
CNC Heavy Duty Press Brake Standard Components:
- ESA S630 CNC control unit
- 4+1 or more axis CNC
- Y1, Y2 precision ram positioning
- Standard X and R-axis
- CNC dynamic crowning
- Large open height/ stroke/ throat depth
- Double section arm NOK seal ring
- Schneider and ABB electric components
- High Siemens efficiency motor
- Stand By Function for energy-saving drive
- Rear cover: Safety barriers (Category IV)
- Sheet metal frontal supports
- SUNNY Pump
- ABBA Ball screw and linear guide
- Rear stop fingers 3 pieces and double linear guide
Tandem Press Brake Applications: High Mast Pole Bending

Used to bend heavy duty sheet metal plate, widely used as light pole bending machine
Any sheet metal plate length bending requests longer than 8000mm.
- Tubes
- Aerospace
- Shipments
- Automobiles
- Transformers
- Street light pole
- Electric power pole
- High mast pole
- Engineering machinery...
You are also welcome to check other SHENCHONG Press Brakes.
Clients and Shipment:
As the experienced heavy duty tandem press brake factory, Shenchong exported large capability hydraulic tandem press brake machines to more than 70 countries globally over 20 years. Light pole bending machine is the main equipment in light poles production, and Shenchong has full experience to produce light pole press brake and can ship it to customers' companies safely. We have different models of tandem press brake for sale, contact us today!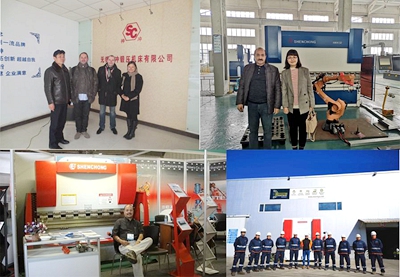 FAQ
Q: How to get a tandem press brake quotation from SHENCHONG?
A: Every customer can get direct hydraulic CNC tandem press brake price from us. Shenchong is one of the largest tandem press brake manufacturers, and we can offer you detailed technical proposal and price. Please provide us your plate material type, max thickness and max width. Also, it will be helpful if you can send us your workpiece drawings or related bending requirements.
Q: What heavy duty machine model can Shenchong produce?
A: We have 600 ton press brake, 700 ton press brake, 800 ton press brake, 1000 ton press brake, 1200 ton press brake, 1400 ton press brake, 1600 ton press brake, 1800 ton press brake, 2000 ton press brake, 2200 ton press brake for sale. We can produce single heavy duty press brake or tandem press brake machine based on your needs. If you need customized machine model, welcome to contact us!
Q: What is the tandem press brake machine shipping cost from China to your country?
A: We can send machine to your port or door address by sea or rail, and so please kindly tell us your nearest port. As the large machine size of tandem press brake, we usually ship the machine by sea. We have reliable shipping agent to insure the safe convenient and time delivery.
Q: Do you accept LC payment?
A: Yes, normally our payment is 30%+70% T/T, LC payment is also acceptable. Our tandem press brake price is affordable, contact with us today!
Q: Do you have installation and training service for CNC tandem press brake machine?
A: Yes, Shenchong is a reliable China hydraulic tandem press brake manufacturer with full exporting experiences. Installation Services are available with all our machines. We dispatch technician to customer's factory for installation and pre-operation of machines. (Customers only need to pay the airfare and hotel)
We provide detailed machine user manuals and train videos, or customers can set a video call with our sales and engineers. Our technician is available to your factory and offer training of how to use our machines. The buyer needs to afford plane tickets. As well, you may send your technician to our company to learn how to operate machines.