With the development of technology and technological innovation, the types and uses of press brake bending machines are becoming more and more extensive.
The 100 ton press brake for sale is a popular model. Different brands of 100ton press benders are also different.
We will take it as an example for a detailed analysis of how to choose press brake model.
Now, we will help you choose the suitable 100ton press brake machine.
1. Is Press Brake 100Ton Really Suitable For Your Workpiece?
Press brake machine is a necessary machine tool for sheet metal processing. A processing factory is equipped with at least one press brake machine.
How to choose the model when buying a press brake machine is a headache.
Is the 100 ton press bender really suitable for your processing requirements? You will get the answer in the following way.
If you need to process a batch of plates of different sizes, you need to tell the CNC press brake manufacturers the following information to help them choose the right press brake model for you.

– The maximum dimensions of the plate
– The thickness and length of the frequently used plate
– The material and tensile strength of the plate
– If you process special or complex work pieces, it is best to send the drawings of the work piece to the manufacturer.
– Then, the manufacturer can help you choose the right molds.
The 100 ton bending machine is a popular search. Let's take it as an example.
In this way, press brake manufacturers and suppliers will tell you whether it is suitable to use a 100t press brake machine or you need another model press brake for sale of another tonnage.
2. How to Select 100Ton Press Brake Machine Model?

How to Determine Press Brake Tonnage?
Case 1:
– The maximum thickness of the sheet you need to bend is 8mm and the length is 3ft
– The thickness of the frequently bent work piece is 4mm, the length is 7ft, and the material is carbon steel.
– Then you need to buy a 100 Ton and 7 ft press brake bending machine.
Case 2:
– If the maximum thickness of the sheet you bend is 4mm and the length is 3ft.
– The thickness of the frequently bent work piece is 2.5mm. The length is 10ft and the material is stainless steel.
– Then, we recommended you to buy a 100 Ton and 10′ press brake bending machine.
3. How to Choose the Brand?
In fact, the structure of the bending press machine is not difficult, almost all manufacturers can make it. But the difference lies in who does it well.
When you choose a press brake manufacturer, it is best to choose a manufacturer with a long Established time, a good reputation, and a medium or big factory. They have rich experience and innovative technology.
Now, the difference between the quality of the 100ton press brake is determined by the accuracy.
With high precision and low noise, this is a good 100t press bender machine.
4. Different Brands and Manufacturers
1) Adira made

– The oldest brand of 100t press brake is Portugal Adira, which has a history of 40 years.
– Adira's press brake machine 100ton frame is very solid.
– But there has been no innovation. The structure is still the old style, the price is average, and the reputation is high.
2) Shenchong made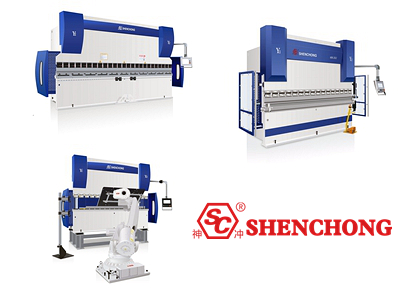 The leading global specialist Shenchong offers manufacturing solutions in sheet metal bending, shearing, rolling, and automation.
- All the parts used in the SHENCHONG press brake for sale meet European standards.
- Comfortable operation and modern technology will greatly improve the working efficiency.
- Shenchong 100 ton electro-hydraulic press brake for sale is the most cost-effective model for all ordinary users.
- Strong production and after-sales capabilities
- High accuracy, low energy consumption, and competitive prices.
3) Trumpf made

– Trumpf CNC brake press bending machine is made in Germany.
– It is famous for its high precision, high quality and no noise.
– With high reputation, high price, full sense of technology and future, it is the first choice for automated factories.
4) US made

– Cincinnati and wysong are 100ton hydraulic press brake manufacturers in the USA.
– They also have many years of manufacturing experience.
– 100 ton press brake USA made by Cincinatti and Wysong are generally hydraulic torsion shaft series, which have the advantage of being firm and durable.
5) Japan made

– Amada is a Japanese national brand with a worldwide reputation.
– The models include both high-tech products and affordable products.
– Customers can choose to buy according to their own budget.
6) Homemade
Limited budget, consider about homemade 100ton press brake
If you have a limited budget, of course, you can consider about homemade 100ton press bending machine.
Many mechanical masters have posted on YouTube how to build a bending press machine.
How to make a homemade style?
– First, you need to prepare a few plates and springs.
– Because, a 100T press brake machine needs a ram and two uprights. The spring is used to move up and down.
– Prepare a pressurizing device to apply pressure to the ram, so that a simple press brake machine is completed.
Disadvantages of homemade press brake
– Homemade press brake has no back gauge and can only fold some simple small pieces.
– If you need to process products in large quantities in a large factory, a homemade brake press will definitely not come in handy.
You may also want to know: