The 500 ton 4000mm CNC press brake machine exported to Russia is under delivery.
1. CNC Press Brake Configuration
- WEK electro-hydraulic
- 500Ton 4000mm
- ESA S630 CNC controller
- 4+1 Axis
Y1 and Y2 axis: CNC axis that controls the oil cylinders on both sides
X-axis: control the backgauge front and back
R-axis: control the backgauge up and down
V-axis: CNC mechanical micro tension compensation for workbench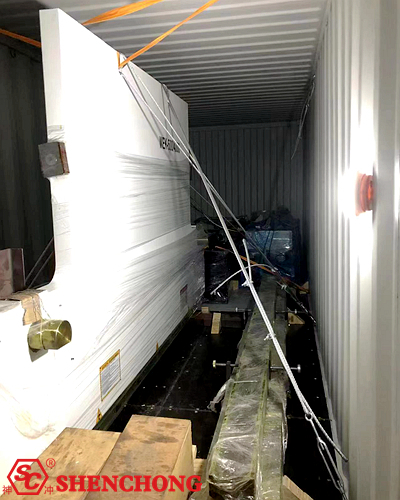 2. WEK-500T/4000 CNC Hydraulic Press Brake Technical Parameter List
TYPE

WEK-500T/4000(ESA-S630)

NO.

ITEM

UNIT

SPECIFICATION

1

Nominal Pressure

kN

5000

2

Length of Table

mm

4000

3

Distance Between housings

mm

3200

4

Throat Depth

mm

600

5

Stroke

mm

300

6

Open Height

mm

615

7

Main Motor

kW

37

8

Approach speed

mm/s

50-90

9

Working speed

mm/s

6-10

10

Return speed

mm/s

50-70

11

Axis (4+1)




Y1, Y2, X, R+V

12

Y1,Y2 parallel tolerance

mm

±0.01

13

X precision

mm

±0.015

14

X movable distance

mm

5-1000

15

R precision

mm

±0.02

16

R movable distance

mm

200

17

Overall Dimensions

(L*W*H)

mm

4600*2800*2490

18

Weight

T

30
This is an assembly CNC press brake machine. Workers break them into pieces and transport them to the customer's factory. After arriving at the customer's factory, we will guide the customer to install remotely.
3. Structural Characteristics Of Russia CNC Press Brake
- The entire machine is welded with steel plates. Vibration after tempering is used to eliminate stress. Good stability.
- Machine sandblasting for rust removal and spray with anti rust paint.
- The frame is clamped and formed in one operation by an imported CNC three-dimensional machining center, ensuring the parallelism and verticality of each installation surface.
- The main structure of the machine tool is composed of wall panels, sliding blocks, workbenches, hydraulic systems, CNC systems, rear retaining devices, molds, etc.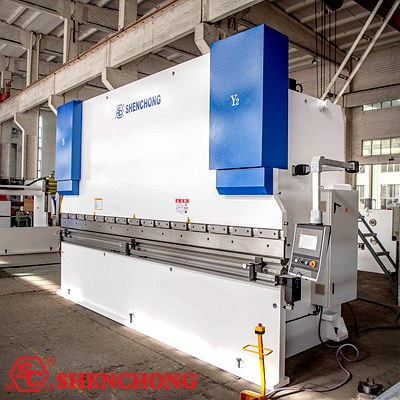 4.

Russia CNC Plate Bending

Main Structure
- Slider
Upward moving bending design. Low noise. Stable working state.
The bottom dead center has a pressure holding time, which is programmable to ensure the accuracy of different parts.
It has the function of slow rebound control. Operators can better control the workpiece.
- Workbench
Adopting mechanical winding compensation to carry molds, fixtures, and plates.
- Master cylinder
The left and right oil cylinders are Y1 and Y2, which can be programmed separately.
There is an adjustable holding time at the bottom dead center to ensure the accuracy of different products.
- Workpiece rear retaining device
The X-axis controls the front and rear. The R-axis controls up and down. Suitable for producing multiple bends. High precision and fast speed.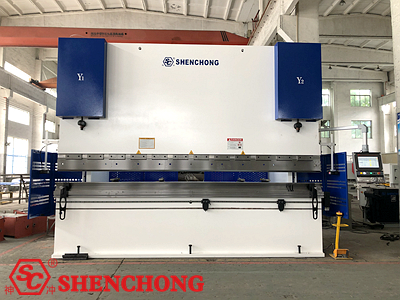 5. Hydraulic system
- Oil tank
Use a split fuel tank. There is an independent shockproof buffer layer. The mute effect is better.
- Hydraulic valve group, motor, oil pump system
- Oil cylinder
45 # steel forging and tempering treatment. Fine boring of internal holes. The overall extrusion is more wear-resistant.
- Piston rod
45 # steel forging and tempering treatment. Laser supersonic spraying Cw on the outer circle.
6. Magnetic grating ruler and computer
The left oil cylinder, right oil cylinder, oil pump servo motor, magnetic grating ruler, computer, and valve group form two closed loop systems.
7. Rear positioning system



Suitable for producing multi bend, high-precision workpieces.
The X-axis of the rear stopper is driven by a ball screw, a linear guide rail, and a digital AC servo motor. There is a concession control function.
The R-axis adopts high-precision gear and rack transmission, and the transmission seat is processed by a five axis CNC system as a whole. Fast speed and high accuracy.
The rear retaining crossbeam adopts front and rear linear guide rails, improving accuracy and strength, and greatly enhancing impact resistance.
8. Electrical system
Schneider is used for electrical components. Complies with international standards.
Safe and reliable, with long service life and strong anti-interference ability.
The electric control cabinet has a heat dissipation device.
Equipped with a movable foot switch. Easy to operate, with emergency power outage function.
In April, our engineer team go to the customer factory to assist in on-site installation and commissioning. Now, this large CNC bending machine has been running smoothly and put into production.