In 2017, Wuxi Shenchong Forging Machine have sold CNC Press Brake 125Ton 4m 6+1 Axis DA-66T to the customers in Vietnam.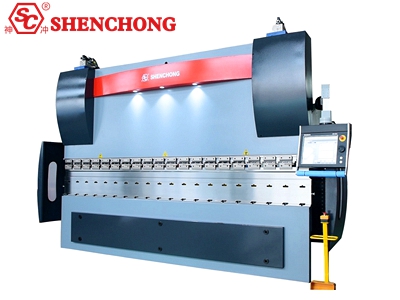 Vietnam Press Brake Details:
- WEK CNC hydraulic series
- 160Ton 4m 6+1 Axis
- DA 66T CNC control system
- High precision, high rigidity
- More axes, making the operation more convenient and efficient
- Back gauge adopts digital AC servo motor drive, step-lead precise ball screw transfer motion, linear guide guiding
- Electro-hydraulic servo system, full loop control synchronization of ram
- Throat deformation compensation mechanism to ensure the bending depth and precision
Press Brake CNC 6+1 Axis Analysis:
- Y1,Y2 control numerical axis of oil cylinder on both sides
- X controls back gauge to move front and back
- The backgauge X axis adopts ball screw, linear guide transmission, digital AC servo Motor drive. And the back gauge has the back control function.
- R controls backgauge to move up and down.
- V is for oil cylinder compensation.