The types of sheet metal press brake bending machines include:
– Torsion shaft, electro-hydraulic, hybrid and electronic
– CN, CNC and fully automatic robot
– Standard, small and large, etc.
Different models have their own characteristics to meet different needs. Which ones are the most worth buying?
Below, we will recommend the 5 most popular and hot sale models in 2020.
Recommend model 1: Servo Hybrid Press Brake
With the deep awareness of energy conservation and environmental protection, energy-saving bending machine has attracted much attention. In 2020, the most popular energy-saving bending machine is CNC hybrid servo press brake for sheet metal.

Features
Working principle:
– The main servo motor drives the oil pump.
– The numerical control system controls the flow and pressure of Y1 and Y2 cylinders respectively through two sets of servo bidirectional pump systems.
– Two sets of servo pump control systems respectively drive the oil from the upper chamber of the oil cylinder into the lower chamber directly through the oil pump to realize the lifting of the upper die.
– When the oil pump reverses, the oil in the lower chamber is directly driven into the upper chamber to realize the bending of the sheet metal.
– The left and right synchronization of the upper die is separately controlled by two sets of servo bidirectional pumps.
– When the bending machine is in standby or fast down, the servo main motor rotates slightly.
– When the slider enters the low speed state, the main motor runs normally.
– After unloading, the main servo motor enters the high-speed rotation state, and the slider returns back quickly.
Advantages:
In the past, the hydraulic bending machine was torsion shaft synchronous or valve controlled. CNC hybrid sheet metal press brake machine is a real servo pump controlled bending machine, not proportional valve controlled. The synchronization of the machine tool realizes the pump control.
– Environmental protection
No leakage, green and Eco-Friendly.
It runs super quietly, 20 dB only.
– Energy-saving
Save more than 80%-85% electricity.
Brand new appearance design, small floor space and space saving.
– High precision
The friction between the left and right cylinders and the synchronization of Y1 and Y2 are not required. Each servo motor controls an oil pump and an oil cylinder respectively to ensure the maximum accuracy of the slider.
Servo pump control ensures the stable hydraulic oil temperature for consistent bending accuracy.
– High efficient
Super high speed, up to 300mm/s without vibrate.
It is conducive to continuous operation for 24hx7days.
– High performance
The operation is more stable, more reliable and safer with low failure rate.
Stable oil temperature extends the using life of each part of the hydraulic system and greatly improves the user working environment.
Multi-axis available, even more than 6 axis. It can meet the processing of all common work pieces.
Advice
– Adapt to the high-temperature working environment
Due to the stable hydraulic oil temperature, hybrid servo sheet metal press brake is the best choice for factories in the high-temperature area, such as south of China, South-East of Asia countries, and countries near Equator, etc…
– Equipped with bending robot for high automation production line.
– High-end customers love it.
The high speed, high efficiency, high precision, low noise, and energy-saving features of the hybrid bending machine can especially catch the high-end users.
You want both long stroke and ultra-high speed, double servo pump control hybrid bending machine is the best choice!
This is one of the most environmentally friendly, energy-saving and efficient bending equipment!
Factory workshop near residential buildings or streets, customers with noise control requirements may wish to try it!
Strong companies have high requirements for bending parts, do not hesitate, please choose hybrid bending machine!
Recommend model 2: Electro-hydraulic Press Brake
This kind of press brake has been the highest sales volume on the market in recent years.
Generally, when it comes to CNC sheet metal press brake machine, we all first think of electro-hydraulic synchronous press brakes. Because the electro-hydraulic numerical control press brake machine is the most representative and the most popular model.

Features
Working principle:
The electro-hydraulic synchronous CNC bending machine relies on the computer to control the synchronization of the machine tool through the electro-hydraulic proportional servo system.
The standard configuration is 4 + 1 axis:
– Y1 and Y2 axes control the values of oil cylinders on both sides.
Y1 controls the left cylinder and Y2 controls the right cylinder to ensure the synchronous movement of the slider.
– X axis controls the forward and backward movement of the back gauge.
– R axis controls the up and down movement of the back gauge.
– V is workbench compensation.
Multi-axis available: 4 axis, 5 axis, 6 axis, 7 axis, 8 axis.
Advantages:
Comfortable operation and modern technology will greatly improve the working efficiency.
– Hydraulic transmission, stable and reliable operation.
– Upward bending design. Low noise and stable working conditions.
– With double guide rail structure, the slider runs more smoothly.
– Electro-hydraulic servo system, full closed loop feedback control synchronization.
– It can carry out eccentric load bending. Y1 and Y2 can be programmed separately and can work under unbalanced load.
– Equipped with an anti throat deformation system ensures bending accuracy.
– The bottom dead center has pressure holding time, which can be programmed to ensure the accuracy of different parts.
– With the function of slow return control, the operator can better control the work piece.
– It is an upgrade of the traditional hydraulic press brake. It has higher precision, faster speed and better operation than torsion shaft type.
Advice
Electro-hydraulic CNC press brake for sale is the most cost-effective model for all ordinary users.
In the sheet metal industry, all factories that need to use bending equipment can choose it!
– For users with high requirements for bending accuracy, there are hydraulic compensation and mechanical compensation, two configurations to choose from.
– If you want to process complex work piece, we suggest you choose multi axis model. 7-axis or 8-axis high-end series can process more complex work pieces.
Recommend model 3: High-speed Mini Press Brake
Although this high-speed press brake is small, its performance is very excellent. Mini high speed sheet metal press brake is very popular in Europe and North America.

High Speed Mini CNC Press Brake
Features
Working principle:
The standard electro-hydraulic CNC press brake has two oil cylinders. Mini press brake has only one cylinder. This is the most distinctive feature!
The design of single cylinder makes it compact in structure, small in volume and more suitable for the processing of small thin plate.
Servo control 4-axis with Mitsubishi control system
– The direction of slider travel (Y axis) and rear stop (X, R, Z axis) are controlled by CNC system.
– X-axis controls the forward and backward movement of the back gauge.
– R-axis controls the up and down movement of the back gauge.
– Z-axis two fingers controls the left and right movement of the back gauge.
Advantages:
High speed
– No load speed (Quick down): 150-400mm/s
– Working speed (Slow down): 5-20mm/s
– Return speed: 150mm/s
It is faster, more convenient and more efficient.
The design is novel, high precision and low noise.
Laser protection is installed on both sides of the mould. More secure.
Advice
It is not a low-end manual bending machine. Also different from common small sheet metal bending machine, high-speed mini press brake is relatively high-end model.
– It is designed for small work pieces and small workshops.
– If you want to process small sheet, it is your efficient choice!
– If your workshop space is limited to accommodate large equipment, choose mini bending machine.
– Because of its lovely cartoon shape, it is very good to put it in the shop for display equipment or processing performance.
– However, this model is limited to 20 tons, 30 tons and 40 tons for work piece with thickness small than 3mm, length shorter than 1000mm or 1250mm. With the limitation of structure and performance, we can't make the model with larger tonnage and longer worktable. Just for small model!
Recommend model 4: Large Tandem Press Brake
In order to meet the processing of oversize plate, the manufacturer promotes large tandem press brakes. In short, it is to combine two CNC hydraulic press brakes together to work.
This product is popular in heavy duty sheet metal forming industry and large equipment manufacturing industry.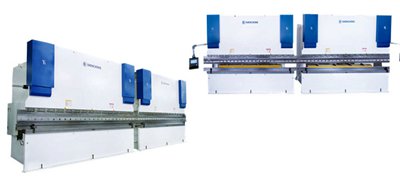 Features
Working principle:
The two linked CNC bending machines can work together and run independently.
– The tandem 2WEK press brakes machine has Y1, Y2, Y3, Y4 axis control four oil cylinders, synchronous up and down movement.
– X1, X2, X3, X4, X5, X6 axes control the forward pushing.
– X7, X8, X9, X10, X11, X12 control push back.
– V1, V2 control worktable deflection compensation.
– Z for motorized side unloading device.
Advantages:
– Equipped with front and rear pushing device specially for large work pieces to reduce labor intensity and improve efficiency.
– With two CNC controller systems used, they can work together or separately.
– Adjustable upper die and lower die with anti-indentation.
– The side unloading device is controlled by CNC, easy to operate. The automatic discharge device helps to improve the work efficiency.
Advice
With different molds, the tandem press brake can make various work pieces, which is widely used in aircraft, freight, automobile, engineering machinery, military factory, street lamp pole, power pole, transformer and other related production lines.
– Especially for the processing of street lamp pole and power pole, the tandem bending machine is particularly suitable.
For example, these configurations: anti indentation function, side discharge device, CNC front and back gauge device, etc. They are all designed to make street light poles and power poles.
– The price of a single CNC hydraulic press brake over 8000mm is very expensive. For customers with bending requirements of more than 8000 mm, tandem heavy duty press brake machine is a better choice!
– If your sheet metal is very long, wide and thick, please choose tandem press brakes!
Recommend model 5: Automatic Robotic Press Brake
Robotic press brake machine is also known as unmanned fully automatic bending machine for sheet metal. It realizes the bending forming without manual operation by robot gripper and CNC system programming.
With the continuous rise of labor cost, more and more customers consult robotic bending scheme. Many factories are planning to invest in automation equipment and flexible production lines.

Features
Working principle:
CNC press brake more than 6 + 1 axis equipped with a robot forms a robot automatic bending machine.
Robotic press brake for sheet metal, equipped with centering platform and turning bracket and other accessories meets the requirements of automatic bending.
Advantages:
– Reduce labor costs and labor intensity
– No security risks
– Suitable for long-term continuous operation
– Improve work efficiency
– Good consistency of work piece accuracy
– Connect with other sheet metal automation equipment, and communicate with the industrial MES system to achieve continuous unmanned production
Advice
The above mentioned electro-hydraulic synchronous press brake and hybrid servo press brake can be equipped with robot arm to upgrade to automatic bending machine.
– This kind of equipment is very suitable for customer factories in areas where labor costs are high.
– It is also suitable for high-end users who are ready to promote automated production line.
– If you already have a CNC hydraulic press brake with high configuration, the manufacturer can also provide you with upgrade service: equip the bending machine with manipulator and intelligent warehouse to form an automatic production line.
– From the point of the long-term development, the robot automatic sheet metal press brake is one of the most worthwhile investment equipment.
The above are the most popular and recommended models. Hope to help you in your purchase.
Do not follow blindly, do not follow suit! Don't buy the most expensive, but the most suitable!
Please make a rational purchase according to your sheet parameters, processing requirements and purchase budget.