Shenchong robotic press brake cell provides unmanned and stable sheet metal bending process, which improves cost-effective and ROI.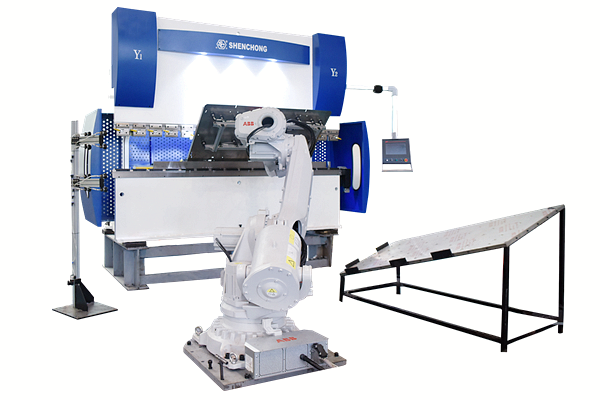 Automated Bending Cell- Robot Press Brake For Sale
Bending capability: 40-1200 Tons
Bending length: 1320-10000MM
Intelligent Manufacturing Redefine Your Future!
You can also check with our hybrid press brake or tandem press brake for more press brake machine models.
Advanced 6-axis or 7-axis robot with 6 + 1 or (7 + 1, 8 + 1) axis CNC press brake, center platform, turnover bracket, and other accessories meet your unique requirements for automatic bending.
- Provide stable sheet metal bending at any time during the bending processing
- High level consistency of work pieces
- Reduces labor costs and labor intensity
- Saves time and effort
- Achieve safe production results
Wuxi SHENCHONG Robot Press Brake Advantage: We have our own robot commissioning engineers so we can provide service anytime when you need. There is no need to wait for third-party services. SHENCHONG will directly install and commission the press brake machine and robot for you, with higher precision and faster service.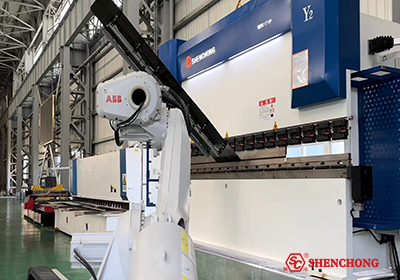 Robot Options:
STEP (China Brand)
Parameter example:
STEP Robot SR90-2280B:
- Grab weight 90kg
- Maximum working radius 2281mm
- Repetitive positioning accuracy ± 0.1mm
ABB (Switzerland)
Parameter example:
ABB IRB6700-200:
- Grab weight 200kg
- Maximum working radius 2600mm
- Repetitive positioning accuracy 0.05mm
KAWASAKI (Japan)
Parameter example:
Kawasaki RS080N:
- Grab weight 80kg
- Maximum working radius 2100mm
- Repetitive positioning accuracy ± 0.06mm
Robot grab weight is depended on your workpiece weight, please tell us your robot brand perference and your workpiece details, we will design the best automatic bending solution.
Advantages and differences:
Shenchong robotic press brake automation solution can implement linkage between 6+1 axis cnc press brake, 7+1 axis cnc press brake or 8+1 axis CNC press brake with 6 axis or 7 axis industrial robot.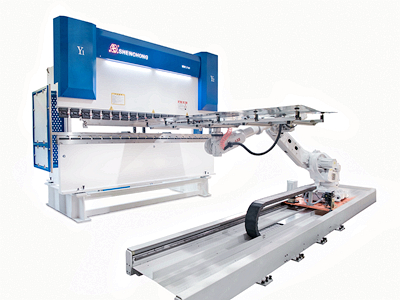 Robotic Press Brake Machine for Sheet Metal Automation

- Cost Saving
The use of robotic automatic press brake can reduce labor costs, improve work efficiency and reduce the labor intensity of workers.
- High Quality
Intelligent vision technology ensures the accurate position of bending. Simplified system controls and debugging ensures the dimensional accuracy of every work piece. The use of the robotic automatic press brake ensures the consistency of the workpiece quality, reduces accidents and enables safe production.
- Automation
Robots can work 24 hours a day, increasing production capacity. SHENCHONG robotic press brake can connect with the sheet metal intelligent storage system, and communicate the industrial MES system to achieve continuous unmanned production.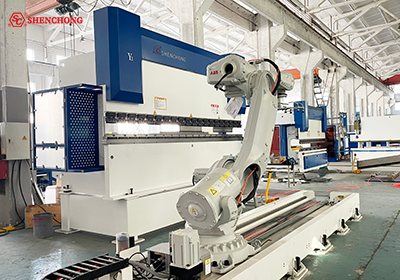 Robotic Press Brake Main Parts:
- 6-axis robot or 7-axis robot for plate bending process
- Bending robot fixture for sheet metal clamping
- CNC Press Brake Machine 6+1 axis, 7+1 axis or 8+1 axis
- Gravity centering platform and turning platform for positioning and turning over sheet metal
- Feeding platform with magnetic separator to separate and load materials
- Vacuum suction cup and pneumatic components
- Linear guide rail
- Access control photoelectric, fence and other safety facilities
- Control cabinet and control system
- Remote module for remote control
Specific models and configurations can be designed according to your requirements.
Automated Bending - Robot Press Brae Machine Applications:
- All industries require automatic sheet metal bending processing.
- Factories that need to reduce labor cost and areas where labor is expensive.
- The best choice for flexible production lines and intelligent factories.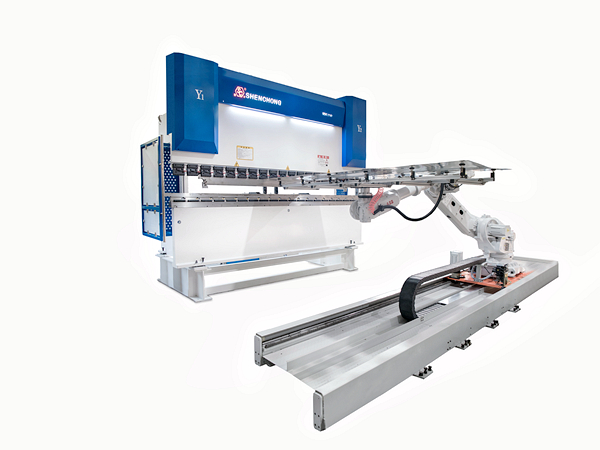 SHENCHONG Robotic Press Brake Machine FAQ:
Q: The Role of the Seventh Axis of a Bending Robot | Why you need?
A: The 7th axis increases the range that the robot can move. Multi station bending is possible. Abundant bending workpiece types. Add a stacking station. The number of plate stacking increases. Reduce the number of manual fetches. Save valuable labor. Further optimize the robot posture. Save bending time.
Q: How to get an accurate robot press brake quotation from SHENCHONG?
A: Every customer can get robotic press brake machine price from us. Please provide us the details of material, max thickness and max width. Also we need you provide us your workpiece drawings, and we need to check bending details.
Q: Can you do OEM service?
A: Yes, we can. your design is accepted, your own logo can be used on the robot press brake machine.
Q: What's the shipping cost from China to your country?
A: We can send machine to your port or door address by sea or airplane. please kindly tell us your nearest port or address with postcode. we have reliable shipping agent to insure the safe convenient and time delivery. Our CNC robotic press brake price is affordable, contact with us today!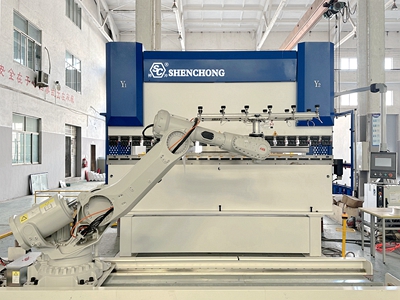 Q: Do you accept LC payment?
A: Yes, normally our payment is 30%+70% T/T, LC payment is also acceptable.
Q: What about commissioning service?
A: We can offer commissioning service, the buyer need to afford plane tickets.
Q: Do you offer teaching & training?
A: Yes, we provide detailed machine user manuals and train videos, or customers can set a video call with our sales and engineers. Or we can send our engineers to your company to train you.