Sheet metal is a key component in nearly every manufacturing industry. It's used to create cabinetry, aerospace technology, automobiles, military equipment, consumer products, and more items than we could possibly list here.
In order to make perfect bends repeatedly and shape this crucial industrial material into the items society relies on, a press brake is used.
A press brake is a type of industrial machine that easily replicates bends in sheet metal countless times. The angle and overall type of bend can be changed by replacing the die used in the press brake, and some manufacturers even offer custom press brake dies to meet the specific needs of their customers.
This allows manufacturing companies to quickly and reliably mass-produce parts and products from sheet metal with minimal labor or room for error.
However, not all press brakes are made equal. Each press brake manufacturer creates its own version of this priceless manufacturing tool, and each variant has its own pros and cons.
To help you find the most suitable press brake for your business, we're going to give in-depth reviews of the top 7 press brake manufacturers in Saudi Arabia.
Let's get started.
1. Shenchong

Shenchong has positioned itself as the leading provider of high-quality, yet reasonable price, press brake machinery, and the company has used a customer-first approach to gain global recognition.
Despite the company's focus being cost-effective press brakes and unmatched customer service, they have still developed a strong lineup of products that can cover the needs of most customers. Besides traditional CNC press brakes, Shenchong also offers hydraulic options that make operating their press brakes easier, and they even offer robotic options that fully automate the bending process.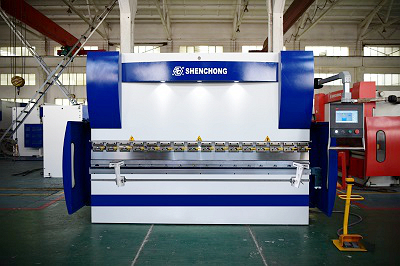 Features of Shenchong Products:
Their equipment is composed of imported high-precision parts. Very powerful! The controller programming port is open for independent programming and development. It will bring customers a different operating experience.
A large number of excellent pre-stocked machines have been produced to ensure that customers can receive and use them in the shortest time after placing an order. This greatly shortens the waiting time of customers and improves the productivity and efficiency.
Shenchong has more than 30 dealers and offices all over the world to provide customers with high-quality and reliable services. When you purchase a Shenchong press brake, you know that you're receiving a reliable, durable product that was crafted with care.
Meanwhile, you also get a selection of standard or custom press brake dies that are crafted in-house at the Shenchong factory to ensure compatibility and reliability for your project.
Various types of customized dies also give customers more choices and ideas. Ensure that customers can make products in the most efficient and fastest way.
Finally, while not a feature of a physical product, Shenchong's extraordinary dedication to its customers covers every product the company sells. Regardless of which option you choose, you gain pre-order consultation, usage instructions, and hands-on guidance, and after-sale service to help with any questions or issues you may have.

Advantages:
- High speed 300mm/s
- High precision ±0.01mm
- After-sale services on a global scale
- Wide range of products
- Custom die manufacturing
- Cost-effective press brake options
- One of the best customer service models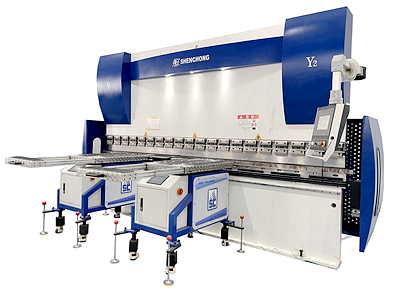 Disadvantages:
- Not manufacture outdated low-end models: mechanical and torsional shaft series
Product Suggestions:
We highly recommend Shenchong's robotic press brake machinery due to its fair price and ability to automate your project's sheet metal bending process. The Servo Hybrid press brake is another option that provides a lot of value at a great price for most projects.
2. Khusheim Machine Tools

Khusheim Machine Tools is an industry leader with more than 64 years of experience, and while they don't have the lowest prices, they can easily function as a one-stop shop for all your machine tooling needs. This includes press brake machinery, but they also supply lathes, CNC punching tools, and a variety of other options your business may need.
Features:
Khusheim Machine Tools isn't a specialty company limited to press brakes, but their hydraulic press brake products are some of the industry's best. They include durable parts constructed to Kingdom's Vision 2030 specs, and they're backed with installation and after-sale services that make maintenance a breeze.
Rather than focus on a large variety of press brakes, Khusheim supplies one highly-customizable CNC press brake that can be outfitted with a number of tooling options. The Khusheim press brake is almost fully automated, has an easy-to-use digital screen, and works efficiently with its 200mm/s approach speed.
The CNC press brake is also capable of being reprogrammed between projects to change the types and placements of bends for the part needed. This makes one machine capable of completing entire projects with minimal human labor or extra tools.

Advantages:
- Highly customizable CNC press brake
- A large variety of tooling options built in-house
- Programmable
- Automated
- Meets Kingdom's Vision 2030 standards
- Khusheim provides other machine tools you may need
- Installation and after-sale support
- Can be retrofitted in the future
Disadvantages:
- Higher upfront cost than competitors
- Fewer press brake options available
Purchase Suggestions:
Your only press brake option from Khusheim is the CNC press brake system, but we recommend buying purchasing Khusheim tooling dies to go along with your new press brake. They're guaranteed to be compatible, and there are plenty of options available for any project. Also, ask about retrofitting your CNC press brake when it's time to switch projects. This will allow you to continue using the same machine for new projects without any major investment costs.
3. Alruqee Machine Tools Company L.L.C (RMT)

Alruqee is a leading machine tech company, and it's one of the largest in the industry. With several sister companies and in-house brands, Alruquee provides plenty of options for all of your machine tool needs. Their press brake machines are some of the most impressive models on the market.
Features:
Alruqee offers three types of press brakes, and each one has its own set of exciting features. The most basic series of press brakes are the manual TrueBend 5000-8000 series. These are low-cost models that require a skilled technician to manually operate the bending mechanism. While this requires manual labor and a lot of skill, it allows for a more hands-on approach to sheet metal bending.
Secondly, Alruquee offers a semi-automatic line of press brake products that require a human operator but are assisted by the latest automation technology. The press brakes in this TrueBend lineup require minimal skill to operate, and they're capable of creating perfect bends repetitively. For most projects, this is a great middle-ground option.
Finally, Alruqee's TrueBend Cell series is a fully enclosed, high-tech, fully automatic press brake system. A human operator is required to program the machine, but minimal human interaction is needed to operate it properly. This comes at a high price, but it fully automates your sheet steel bending process.

Advantages:
- Three press brake categories with multiple options
- Fully automated options
- Highly reputable company
- Certified products
Disadvantages:
- Very high price
Purchase Suggestions:
For most companies, we recommend the semi-automatic lineup of TrueBend press brake machines. They don't require highly skilled operators. However, if your company can afford it, the TrueBend Cell lineup can fully automate the bending process and reduce labor costs.
The manual press brake series is a great budget option, but it requires highly skilled operators, and it's more suitable for low-volume production.
4. GUMACO

GUMACO is a smaller, family-owned machine tool company that is relatively young. However, Although, they are lack a long-standing reputation or impressive customer base, it makes working with them a more personalized experience. They also aim to push the industry further through innovative tech solutions in order to stand out.
Features:
GUMACO's press brakes come in a variety of models. Both NC and CNC types are available, and there are several sizes to choose from in each category. While GUMACO doesn't offer the cutting-edge technology that Alruqee does, it does offer the latest, most reliable models of press brakes at a very reasonable price, and there are press brake models available that handle the full range of tonnage and accept various kinds of die tooling.
All of GUMACO's press brake machines are supported with after-sale services and support, too.
However, one of GUMACO's most attractive features as a company is its massive selection of machines. While this overview focuses on the press brakes GUMACO supplies, they also provide a large number of woodworking tools, laser cutters, rollers, and other types of machines.

Advantages:
- Personal, small business interactions
- Very large machine selection
- Reliable, cost-effective press brakes
- Frequently upgraded stock
Disadvantages:
- As a small, family-owned business, they can be slower to deliver or respond to inquiries.

- Doesn't offer the most high-tech machines
Purchase Suggestions:
GUMACO's CNC and NC hydraulic press packs the tonnage needed to bend thicker sheets, but the precision necessary to create more delicate parts with ease. It's also a semi-automatic bending solution that can be purchased at a fair price; reducing your overall production and labor costs.

5. Beta Machinery

Beta Machinery prides itself on providing a large variety of industrial machines and consumables to Arabian manufacturing businesses at a reasonable price. They're a mid-sized company, and while their press brake options are limited, the products they do have available are flexible enough to meet the needs of most customers.
Features:
While Beta Machinery has a large selection of machines available, they only sell one model of press brake. Luckily, the press brake they offer is advanced enough to handle most tasks, and it's extremely easy to use.
Firstly, Beta Machinery's product is a CNC press brake with a focus on user-friendliness. It comes packed with pre-loaded, turn-key design programs that allow you or your operators to quickly change the type of bends being made. This allows even entry-level operators to intuitively change the machine's behavior mid-project, and it prevents having to program an entire run cycle from scratch.
Beta Machinery's press brake also has multiple access points to make it easy to work within packed work areas, and this allows you to bend various lengths and thicknesses of sheet metal with ease.
Paired with high die compatibility and a straightforward operation process, this makes the CNC press brake supplied by Beta Machinery a highly efficient and user-friendly option for an affordable price.

Advantages:
- A comprehensive CNC press brake at a reasonable price
- User-friendly for entry-level operators
- Wide selection of pre-set programs
- Suits most projects well
- Beta Machinery sells a wide range of industrial consumables and other machines
Disadvantages:
- Beta Machinery only has one press brake option available

Purchase Suggestions:
Since Beta Machinery only has one press brake option available, there aren't many suggestions to be made. However, they also supply every other sheet metal fabrication machine you may need, and they sell the consumables necessary for those machines in bulk. You can source your business's fabrication machines entirely from Beta Machinery instead of having to shop around.
6. Atis Makine

Atis Makine is a customer-focused press brake manufacturer and industrial machinery manufacturer. They take a unique, customized approach to satisfying customers. Instead of letting you figure out what you need, their experienced staff members ask about your project and develop a custom solution that meets your needs. This lowers costs, increases efficiency, and ensures your company's project is completed perfectly.
Features:
Atis Makine makes purchasing the perfect press brake simple by offering one standard model with various optional features. These features can be mixed and matched to meet your needs without forcing you to pay for features you don't want.
With Atis Makine's custom approach, you can upgrade to faster approach speeds, higher tonnage capabilities, 3D design visualizations, traditional foot pedal controls or advanced touch screen UI systems, American tool compatibility, and upgraded clamp systems.
However, Atis Makine also offers add-on technical tables, and they offer a specialized, special-project press brake for unique projects.
All of their products are also covered with some of the most extensive after-sale support possible. They'll help troubleshoot issues with your press brake, provide repairs, and even help guide you if you don't quite understand one of its functions.
Finally, the customized features Atis Makine offers ensures that you get the best deal possible when purchasing from them. It takes more time to order, and you have to consult with their team, but this pays off with lower costs and better efficiency.

Advantages:
- The best after-sale services available
- Customized press brake features
- Standard and high-tech options
- Reasonable prices
Disadvantages:
- Takes longer to order and receive your press brake
- The company is only 10 years old and is just starting to develop a long-standing reputation.
Purchase Suggestions:
Take advantage of Atis Makine's customized approach. While you may think you know everything you need, their fabrication experts can create a customized CNC press brake that cuts costs by leaving out features you won't use, and they'll put your budget in the right parts of the machine.
7. Sitaco

Sitaco is a long-standing press brake manufacturer of industrial machinery in Saudi Arabia. In fact, it was the first manufacturer in Jeddah when it opened over 40 years ago. Over the last 40 years, they've stayed on top of shifting legislation, customer demands, and tech improvements to remain one of the most reliable press brake manufacturers in the country. They have over 35,000 products in stock, and they conform to all Saudi Arabian certification requirements.
Features:
Sitaco offers one type of CNC press brake, but they offer it in 8 variants that have different bend lengths, thickness capacities, and tonnage to ensure any project's needs are met.
Each model features a simple operating system that requires minimal training, and they function with a traditional foot pedal design. However, the models range from 120mm bend lengths, all the way to 2000mm bend lengths. They also have solutions that can work with sheet metals of various thicknesses up to 5mm.
In addition to their comprehensive press brake lineup, Sitaco offers practically any other industrial machine or consumable you may need. Whether you need lapping bands or laser cutting systems to complete your project, you can get it from Sitaco with ease.
All of Sitaco's products are backed by their service team, too. This prevents you from having to hire repair services or attempt to source hard-to-find parts from third-party retailers.

Advantages:
- Long-standing reputation in Saudi Arabia
- Huge product lineup
- 8 press brakes to choose from
- A press brake for every project
- Streamlined buying and delivery process
- Partnerships with the biggest brands
Disadvantages:



- No customization options
- Each press brake is limited in function
Purchase Suggestions:
Consult with a Sitaco representative before purchasing a press brake. Each of their press brakes is designed to handle a specific range of materials, and purchasing the wrong model might require you to perform an exchange. Luckily, their team has more than 40 years of experience helping customers meet their project's requirements.
Choose the Right Press Brake Manufacturer for Your Needs
The seven press brake manufacturers we've reviewed are the best in Saudi Arabia. However, they each have pros and cons, and they offer very different products and experiences. Depending on your project business's needs, some of these press brake manufacturers will suit you better than others.
Take your time and consult with representatives from the companies that suit you most, and you'll be impressed when you finally receive the perfect press brake for your fabrication project.