WEK 200 Tons 3200mm Hydraulic CNC Press Brake For Sale
SHENCHONG WEK 200 Ton 3200mm cnc press brake machine for sale with Cybelec Touch 15 Controller, 4+1 axis.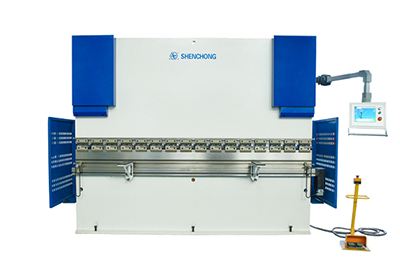 SHENCHONG 200T/3200MM CNC Press Brake Main Features
To meet customers' bending requests, SHENCHONG announce WEK Serie Electro-Hydraulic CNC hydraulic Press Brake Machine, which has become the most popular CNC Press Brake type in the global market. WEK Serie press brake is equipped with a touch-screen graphic programing CNC controller and is available in 4 axes in total with 2 axes back gauge. WEK Serie is intended and designed for customers looking for the basics and ease of use.
- The fuselage adopts integral welding and integral processing structure.
- Adopting the closed-loop control method composed of German electro-hydraulic servo valve and grating ruler, the slider position feedback accuracy is high, the operation is accurate and stable, the synchronization performance is good, and the bending accuracy is high.
- The CNC control system can realize the functions of bending angle graphic programming, angle correction compensation,automatic calculation and automatic adjustment of bending pressure, automatic calculation of the deformation compensation amount of the working table, the unfolded length of the work piece, and the automatic back gauge of the back gauge.
- Cybelec Touch 15 controller controls the backgauge, which can continuous bend the complex workpiece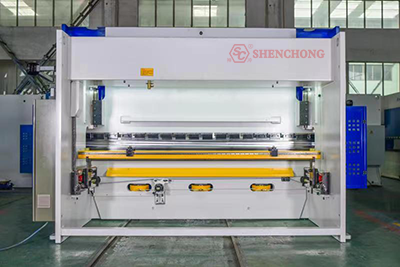 WEK 200T3200MM Press Brake Machine Technical Parameters:
- Nominal Pressure: 200 Tons
- Length of Table: 3200mm
- Distance Between housings: 2660mm
- Throat Depth: 400mm
- Stroke: 200mm
- Open Height: 470mm
- Main Motor: 15kw
- Approach speed: 160mm/s
- Axis(4+V): Y1, Y2, X, R +V
- Y1,Y2 parallel tolerance: ±0.01mm
- X precision: ±0.015mm
- X movable distance: 5-1000mm
- R precision: ±0.03mm
- R movable distance: 200
- Overall Dimensions: 3760x1880x2670mm
- Weight: 10.7 Tons
CNC axis description:
Y1, Y2 axis—controls the CNC axes of the cylinders on both sides. The X-axis controls the back gauge and forth of the back gauge, the R-axis controls the back gauge up and down, the Z1,Z2 axis control the back gauge finger left and right, and the V-axis table is CNC crowning.
Why not also check with our WDK Hybrid Servo Press Brake Machine Series
WDK 200T 3200MM Hybrid Servo Press Brake
WEK 200T x 3200MM CNC Hydraulic Press Brake Machine Details
- Movable front arm support
- Double linear guide of the backgauge
- 2 pieces standard rear stop fingers
- Linear magnectic scale from German
- Standard 4 axes controlled by CNC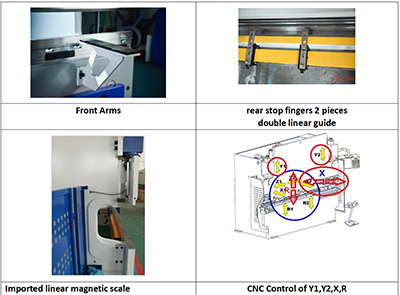 200 Tons 3200mm CNC Press Brake Configuration
WEK CNC Press Brake Hydraulic Parts:
- Magnetic scale (ELGO Germany)
- Valve unit (ARGO-HYTOS Germany)
- Gear pump (SUNNY USA)
- Ferrule connector (EMB Germany)
- Sealing ring (SKF Sweden)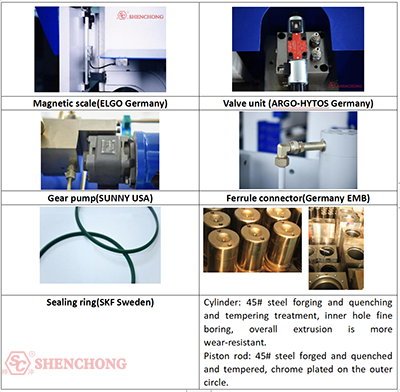 WEK 200T3200MM Electrical Parts:
- Cybelec Touch 15 CNC controller (Touch Screen from Cybelec Switzirland)
- Main motor (SIEMENS)
- V axis table crowning (CNC controlled)
- Backgauge servo motor (DELTA Taiwan)
- Electrical components (Schneider France)
- Movable foot pedal for esay operation and emergency power off function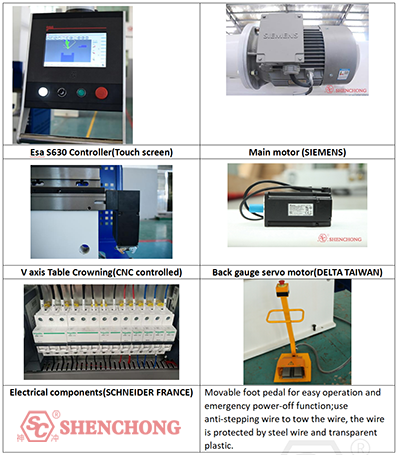 - Shenchong CNC press brake standard safety protection includes:

- Side protection and back door protection
- Electrical cabinet with ABB switch power off device
- Fan in the electrical box prevent overheating
- Cooling device to prevent overheating of oil tank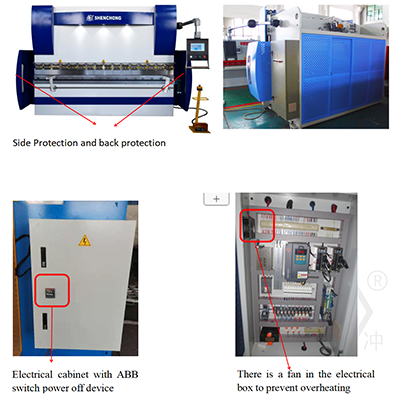 Cybelec Touch 15 Controller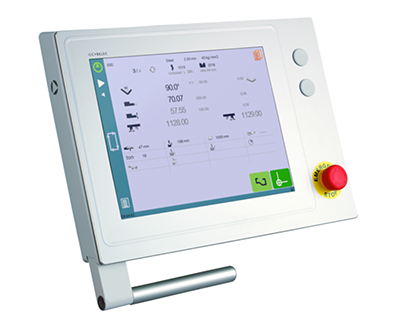 - Screen: Glass touch screen (capacitive) 15" color graphic TFT screen, 1024 x 768 pixels
- System Memory: 8 GB and up Micro SD Card with firmware update via RFlink.
- Axis ± 10VDC: Management of AC/DC drives and motors.
- Axis 0-10 VDC: Frequency converter for AC asynchronous motors.
- Axis SP-SN-HS: 2 speeds mode.
- Axis SP-SN 0-10 VDC: 2 adjustable speeds.
- Digital Inputs: 16 Optocoupled
- Analog Inputs: 4 0-10 VDC.
We also provide other CNC controller option: DELEM, ESA, ELGO... Welcome to contact with our sales for more machine details.
SHENCHONG After-Sale Service
As a professional CNC press brake machine manufacturer, Shenchong always focus on customers' satisfaction.
We will arrange for engineers and installers to go to the site for installation, commissioning and training, which is about 3 days. Or you can arrange for people to come and study.

The warranty period of the machine is 13 months, including one month in shipping.

If there is any problem, we will first check the machine problem through video and guide the repair. If it still cannot be solved, an employee will be sent to the site for repair.

During the warranty period, non-human damage, parts damage shall be responsible by the seller.