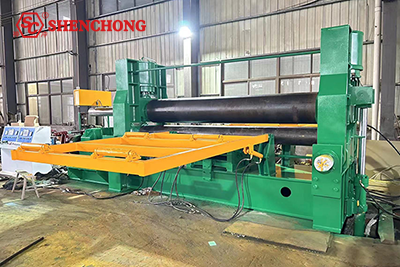 SW11SNC 40X3500 NC 3 Roller Plate Rolling Machine Specification
- Max.pressure of upper roller: 480 Tons
- Max thickness of rolling plate: T40*B3500*φmin 1800mm (σs≤245 MPa)
- Max thickness of pre-bending: T32*B3500*φmin1800mm (σs≤245 MPa)
- Max.width of plate: 3550mm
- Yield Strength: ≤245Mpa
- Straight edge of pre-bending: ≤2~2.5×thickness
- Upper roller diameter: 540mm
- Bottom roller diameter: 290mm
- Center distance of two rollers: 500mm
- Rolling speed: 4m/min
- Main power: 45kw
- Hydraulic motor power: 22kw
- Horizontal moving motor power: 7.5kw
- Driving type: Mechanical driven by two bottom rollers
SW11SNC 40X3500 NC 3 Roller Plate Bending Machine Configuration
- Main low voltage electrical components: Siemens
- PLC programmable controller: Siemens
- Upper roller: Material 42CrMo alloy steel precision forging parts quality control.
- Bottom roller: Material 45 tempered steel precision forging parts. quenching thickness 9mm. HRC 56.
- Lower pressure cylinder: No. 45 steel conditioning treatment, fine boring inside hole, rolling pressure, yan grinding piston rod no. 45 steel conditioning treatment, outside circle plating nickel phosphorus.
- Sealing ring: NOK, Japan
- Upper roll bearing: WAFANGDIAN
- Bottom roller bearing: Oilless self-lubricating sliding bearing (SF-2)Wuxi
- The lower roller drives the reducer: Medium hard gear reducer(CZS series)
- Main motor: YINGKAI, Wuxi
- Hydraulic motor: TONGDE, Wuxi
- Lower roller horizontal moving motor: YAODA, Wuxi
- Hydraulic system: YUKEN
This SW11SNC 40X3500 NC 3 roller bending roll with our optional device: side bracket, which is conveniently use to long plate during the rolling process.
SW11SNC Three Roller Plate Rolling Machine Main Structure
The main structure is composed of upper roll, down roll and level motion device, support roll device, hydraulic drop end device, main transmissionbalance device, lubricate device, left and right work frame and bottom chassis.
1) The upper roll
Upper roll device composed of main cylinder, upper bearing pedestal, upper roll, double self-aligning bearing. Upper roll ends fit with double row self-aligning roll bearing to reduce the friction and motor power. The material of upper roll is 42CrMo, after completion of multiple processes such as forging, tempering, quenching, tempering, stress relieving and precision lathe machining (Note: According to the user's different needs, the processing procedure of the roll is different); Strictly ensure that the working roll surface strength is high in the rolling plate, the surface of the roll is free from indentation and can meet the requirements of long-term rolled steel plate. Heat treatment is HB250-280, HRC 40-45.
2) Bottom roll and level motion device.
The material of bottom roll is 42CrMo, heat treatment is HB250-280. It composed of bottom roll, bottom roll bearing pedestal, bottom roll input gear, glide bearing. Bottom bearing adopt SF-2 oil glide bearing.
Level motion motor supply the power, through the strap drive to worm wheel and pole speed reducer. Upper roll level motion drove by worm wheel and pole to finish bending in dissymmetry form.
3) Support device
Composed of sloping block device, support device, support roll bearing pedestal, support lifting device, support roll can adjust up and down. The adjustment depend on plate specification. The material of support is 45# , heat treatment is HB190-220, it made up in helix sharp to protect the surface.
4) Main driven device
It composed of motor, hard gear speed reducer, output gear, main motor can tuning in two direction and provide bending pitch of strand.
5) Overturn device
Composed of ram, bearing, tuning cylinder
6) Hydraulic system
Composed of Y series motor, gear pump, valves, oil tank, pipe and so on.
Max pressure is 20 Mpa, testing pressure is 24 Mpa, pressure adjusted by overflow valve, system working pressure 0-19 MPa, normal pressure is 15Mpa. The valves is adopted from Taiwan.
7) Electricity system
Composed of electrical box, operation table, manual button. The power is 380V/50Hz/3PH, it is adopted PLC control system code with longevity easily operate. Whole bending process can read from the indicator setting on the control box.
8) Digital display system
This machine adopts two sets of digital instrument and displacement sensor formed a reliable digital display and control system.
SHENCHONG After-Sale Service
As a top plate roll bending machine manufacturer, Shenchong always focus on customers' satisfaction.
- We will arrange for engineers and installers to go to the site for installation, commissioning and training, which is about 3 days. Or you can arrange for people to come and study.
- The warranty period of the machine is 13 months, including one month in shipping.
- If there is any problem, we will first check the machine problem through video and guide the repair. If it still cannot be solved, an employee will be sent to the site for repair.
- During the warranty period, non-human damage, parts damage shall be responsible by the seller.