WDK 300 Tons 4000mm Hybrid Servo Press Brake For Sale
SHENCHONG WDK 300 Ton 4000mm electric servo press brake machine with ESA S640 Controller, 6+1 axis.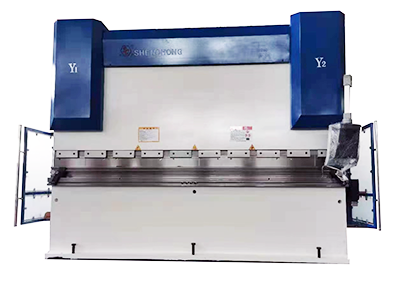 SHENCHONG 300T/4000MM Servo Hybrid Press Brake Main Features
To meet customers' bending requests, SHENCHONG announce WDK Serie Hybrid Servo CNC Press Brake, which provides more advantages on bending speed, energy saving and working environment.
WDK Serie press brake is equipped with a touch-screen graphic programing CNC controller and is available in 6 axes in total with 4 axes back gauge. WDK Serie is intended and designed for customers looking for better operation experience and Eco production targets.
The whole steel plate of CNC hybrid press brake is welded, the stress is eliminated by the vibration after tempering sandblasted and sprayed with anti-rust paint. the machine frame is processed by imported CNC three-dimensional processing center, which ensures the parallelism and verticality of each installation.
The Ram Structure
- Upper dynamic bending design to ensure low noise and stable working condition
- Y1 and Y2 can be programmed separately and can work under partial load
- The bottom dead point has pressure holding time; it is programmable to ensure the accuracy of different parts
- With the function of slow speed control, the operator can control and operate the workpiece better.
Hydraulic System and Main Servo Motor
Adopt split double oil tanks (with independent shockproof buffer layer, better muting effect).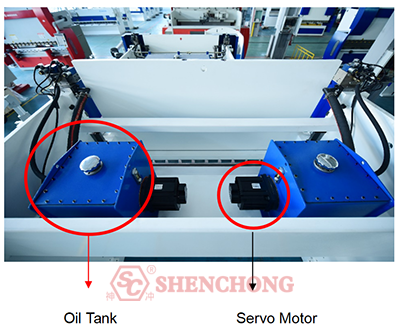 - Adopts hybrid servo pump control system: the left and right two sets of magnetic scales send position signals to controller to control two main servo motor and oil pumps by the rotation speed to produce the same flow and pressure, so that the left and right oil cylinders move synchronously and press up simultaneously. The oil cylinder, oil pump, servo motor, magnetic scale, and computer form two closed-loop systems.
- The servo motor rotates slightly (quietly and energy-saving) during standby; when it is fast down, the servo motor rotates at different speeds (high speed and low torque) according to different speed requirements; when the machine is bending, the torque of the servo motor is different ( High torque and low speed); During the return stroke, the speed of the servo motor is different (medium torque) according to different speed requirements.
- The hydraulic system has overload safety protection, and the oil level is displayed clearly and intuitively. The seals in the oil cylinder are all imported parts, with good quality and strong performance.
- Continuous working under rated load, the hydraulic system guarantees no leakage and continuous and stable processing with high accuracy
WDK 300T4000MM Press Brake Machine Technical Parameters:
- Nominal Pressure: 300 Tons
- Length of Table: 4000mm
- Distance Between housings: 3200mm
- Throat Depth: 400mm
- Stroke: 250mm
- Open Height: 500mm
- Main Motor: 8kw x 2
- Approach speed: 180mm/s
- Axis(4+V): Y1, Y2, X, R, Z1, Z2 +V
- Y1,Y2 parallel tolerance: ±0.01mm
- X precision: ±0.015mm
- X movable distance: 5-1000mm
- R precision: ±0.02mm
- R movable distance: 200
- Z1,Z2-axis repeat positioning precision: ±0.05mm
- Z1,Z2-axis moving spacing: 2000
- Overall Dimensions: 4580x2080x3090mm
- Weight: 19.5 Tons
CNC axis description:
Y1, Y2 axis—controls the CNC axes of the cylinders on both sides. The X-axis controls the back gauge and forth of the back gauge, the R-axis controls the back gauge up and down, the Z1,Z2 axis control the back gauge finger left and right, and the V-axis table is CNC crowning.
You can check our Robotic Press Brake.
WDK 300T x 4000MM Servo Electric Press Brake Machine Details
- Movable front arm support
- Double linear guide of the backgauge
- 2 pieces standard rear stop fingers
- Linear magnectic scale from German
- Standard 6 axes controlled by CNC
6 Axis Back Gauge System
- Best choice for producing multi-turns, high-precision workpieces
- The X-axis of the back gauge adopts ball screw and linear guide, driven by digital AC servo motor, and the back gauge has retraction control function.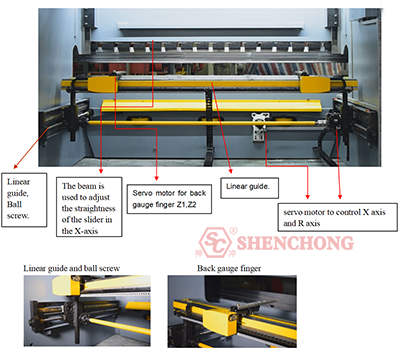 300 Tons 4000mm Servo Hybrid Press Brake Configuration
WDK Servo Press Brake Hydraulic Parts:
- Magnetic scale (ELGO Germany)
- Hydraulic Control System (REXROTH Germany)
- Gear pump (ECKERLE Germany)
- Ferrule connector (EMB Germany)
- Sealing ring (SKF Sweden)
WDK 300T4000MM Electrical Parts:
- ESA S640 CNC controller (Touch Screen from ESA Italy)
- Main motor (SIEMENS)
- V axis table crowning (CNC controlled)
- Backgauge servo motor (DELTA Taiwan)
- Electrical components (STARS Servo Motor)
- Movable foot pedal for esay operation and emergency power off function
Safety Protection of SHENCHONG Press Brake
- Shenchong servo press brake standard safety protection includes:

- Side protection and back door protection
- Electrical cabinet with ABB switch power off device
- Fan in the electrical box prevent overheating
ESA S640 Controller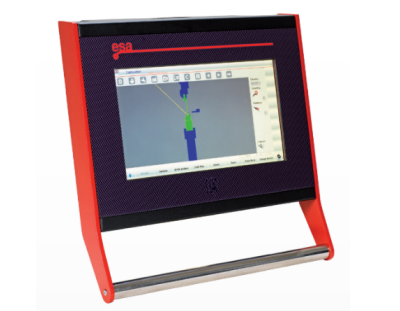 - Conventional press-brakes (Mechanical and Hydraulic), synchro Hydraulic press-brakes, servo controlled hydraulic single cylinder press-brakes, electrically driven press-brakes
- Hydro-mechanical press-brakes American style software specifications
- Interactive 2d graphic editor for work-pieces and tools data entry
- 2D graphic display of machine frame, work-piece and tools
- Manual 2D graphic identification of the best bending sequence
- Programming of the axes positions in tabular mode with automatic syntax checks, automatic calculation of the r, z and A positions and of the bending and crowning tonnage
- Windows® like user interface
- Complete off-line programming on a standard pc
- IEC 61131-3 plc programming language with function utilities either written in il or "c" language, are available for manufacturers
- Customizable alarm messages
We also provide other CNC controller option: DELEM, CYBLEC, ELGO... Welcome to contact with our sales for more machine details.
SHENCHONG After-Sale Service
As a professional hybrid CNC press brake machine factory, Shenchong always focus on customers' satisfaction.
- We will arrange for engineers and installers to go to the site for installation, commissioning and training, which is about 3 days. Or you can arrange for people to come and study.
- The warranty period of the machine is 13 months, including one month in shipping.
- If there is any problem, we will first check the machine problem through video and guide the repair. If it still cannot be solved, an employee will be sent to the site for repair.
- During the warranty period, non-human damage, parts damage shall be responsible by the seller.