This is an automatic plate shearing machine ordered by customers in the automotive and transportation industries. Ready to ship!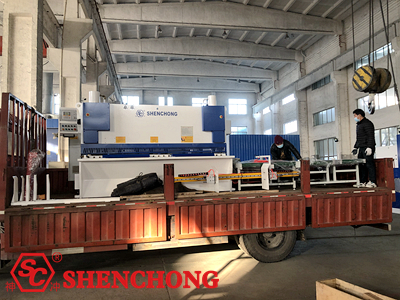 Transportation Industry Automatic Plate Shearing Machine Configuration:
- QC11K CNC hydraulic series
- 8X2500MM
- ELGO P40 controller
- 4+1 axis with pneumatic pneumatic support device
- 1 belt conveyor line
- 1 set of palletizing device
- 1 set of stacking and tapping device (left and right directions)
- 1 set of angle measuring instrument
Transportation Industry Plate Shearing:
Our transportation industry client is a comprehensive enterprise engaged in the production and sales of automotive body parts. Manufacturers in the automotive industry produce automotive body sheet metal parts, automotive accessories, automotive engine covers, car doors, etc.
The processing of automotive body sheet metal parts, automotive accessories, engine covers, doors, etc. requires the use of high-precision automated plate cutting machines for processing and production.
SHENCHONG Automatic Plate Shearing Machine For Automotive And Transportation Industry
CNC front feeding plate shearing machine is the excellent shearing partner to over all increase the output from the shearing operation.
As leading company in guillotine shearing machine industry, Shenchong keeps innovating in CNC hydraulic front feeding guillotine shears details to improve cutting precision and linear. Has always been imitated, but never been surpassed.