3015 6000W Double Platform Exchange Metal Sheet Fiber Laser Cutting Machine Parameter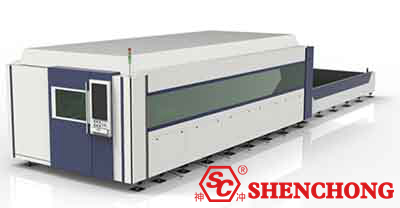 Model SC-D3015
Working Size 3000*1500mm
Stroke (X/ Y/ Z Axis) 3050mm/1550mm/280mm
Machine Size (L*W*H) 8610x2650x 2106mm
Machine weight (kg) 11500
Laser Source RAYCUS
Laser Power 6KW
Positioning Accuracy ±0.03mm
Repositioning Accuracy ±0.02mm
Max. Position Speed 120m/min
Max. Acceleration 1.2G
Working table exchange time 14s (adjustable)
Machine cutting table: SHENCHONG
Laser power: Raycus
Laser head: BOCI BLT641
Chiller: Tongfei
CNC controller: Cypcut 2000S
Gear rack: YYC
Rail guide: Bosch Rexroth/INA
X/Y/Z axis servo: YASKAWA
Nesting software: CAD nesting
Planetary gearbox: Shimpo
Proportional valve: SMC
Transformer: SHENCHONG
Pressure valve: Parker
Auto height controller BCS 100E
Stabilizer: SHENCHONG
Relay: Schneider
Other valves: SMC
AC: Tongfei
Double Platform Exchange Sheet Laser Cutting Machine Feature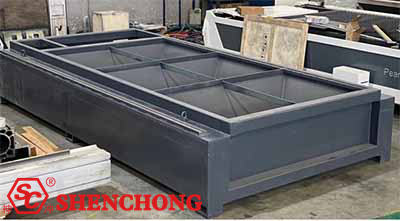 Machine Frame
Main body frame: The whole main body of the tool is made of the carbon structural steel with the staggered honeycomb welding structure, which is machined roughly after stress annealing and then the vibration aging treatment is performed. The natural aging may completely eliminate the welding and machining stress. With good rigidity and high precision, it may maintain normal use for 20 years without deformation.
Innovative Integrated-type Cabinet
Give up wire cable connection, easy to install and quick to put into production, minimizing your waiting time for working. Designed as high-standard sealing style to prevent dust from entering in and components from being ignited.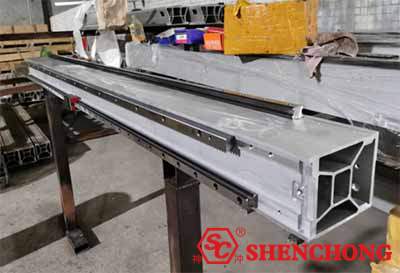 CROSS BEAM
- INTEGRATED STEEL MOLD: Monolithic cast aluminum beam, light weight, high strength, no deformation. Molded and framed by integral steel mold and diecasting technology, light crossbeam make equipment a high operation speed, improving processing efficiency and processing quality.
- HIGH SPEED: The light crossbeam can ensure the machine have high moving speed and improve the processing efficiency.
- MORE EFFICIENT: The aluminum profile beam of the aerospace industry makes the equipment have efficient dynamic performance, greatly improving processing efficiency while ensuring processing quality.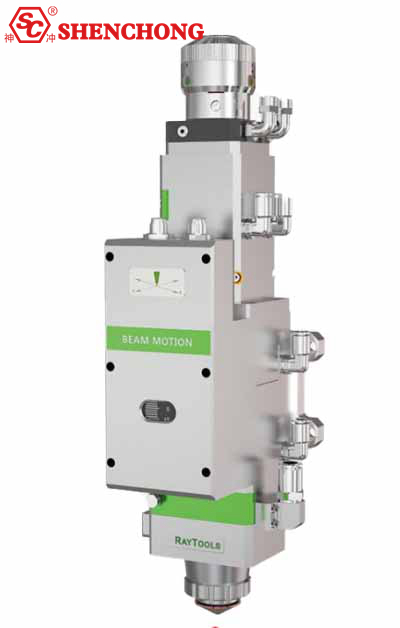 Fiber Laser Cutting Head - Raytools
The product has a built-in motor drive unit, and the linear mechanism drives the focusing mirror to automatically change the position within the range of 24mm. The user can set continuous focusing through the program, complete the fast perforation of thick plate and automatically cut the plate of different thickness and material.
BM series auto cutting | BM110 high-performance automatic focus cutting head
- Excellent design: Optimized optical configuration and smooth and efficient airflow design significantly improve cutting quality and efficiency.
- Auto focus: Automatic focusing, reduce human intervention, automatic focusing range -12~+10mm, focusing accuracy 0.05mm.
- Multiple protection lens: Collimation increase protection lens, effectively protect the collimation lens.
- Drawer type mirror holder: Quick and simple replacement of protective lens.
- High adaptation: With QBH, QD and other types of fiber interface, can be adapted to various mainstream lasers.
Fiber Laser Cutting Machine Control System - FSCUT
FSCUT2000C system is a high performance open loop laser control system. Widely used in metal, non-metal laser cutting field.
Fiber Laser Cutting Machine Software - CYPCUT
- Leapfrog: To be more efficient and faster in the plenty of cutting motion.
- Adaptive edge finding skip function: To detect the frame of the metal plate automatically.
- automation acceleration and deceleration of corners: System has automatic corner acceleration and deceleration function, combined with laser energy following mode, which can effectively prevent corner over- cutting and burning.
Warranty and Service For 3015 6000w Fiber Laser Cutting Machine
Laser power: 2 years warranty, Guaranteed by laser power manufacturer Shenchong Machine table: Ten years warranty, Guaranteed by Shenchong Electronics and motion parts: One year warranty, Guaranteed by parts manufacturer
Free Warranty Service: We will send replacement parts on our cost first, keep customer's machine running is top concern.
If machine needs onsite service for quality issue, we send technician to anywhere on our cost. You may inquire any of our old international customers for reference!
Product's real warranty relies on the original parts manufacturer, not the machine manufacturer. We can NOT offer warranty that we are unable to fulfil it. We don't play for one-time business.
Many China factories offer cheap price and 2 or 3 years warranty, but during warranty period, you can really get free replacement and onsite service?
Or they tell you need to pay expensive international express, and stop your machine, wait long time for return damaged parts to repair and replacement?
Or they're busy; currently have no technician to your site for old machine service?
Cheaper price never goes together with better service. You will get what you paid for it always makes sense.