At the end of 2019, High Speed Shear Machine has been sent to Denmark. Danish high-speed plate shears have been loaded into containers by the factory master and transported to the port.
High Speed Shearing Machine Shipped to Denmark
The cutting speed of high-speed guillotine shear is twice that of ordinary plate shear machines. Thus, the working efficiency of the shearing plate is greatly improved. At the same time, it also improves the shear quality of the sheared section and reduces the wear of the shearing blade edge. So, it increases the service life of steel cutting blade.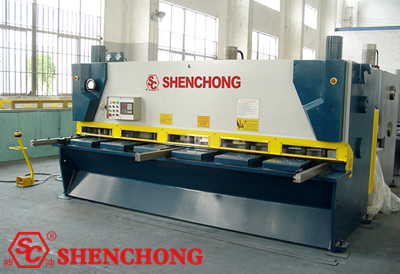 Why dose Denmark customer choose Wuxi Shenchong shearing machines?
After many investigations, communication with SHENCHONG technicians and many visits to our factory, the Danish customer finally chose SC® high speed guillotine shearing machine.
High-speed shearing machine adopts all steel welding structure: wallboard, worktable and tool holder body are subject to secondary tempering process to eliminate stress. The vibration of the welding part of the steel plate can eliminate the stress and has excellent rigidity and stability.
The accuracy of the numerical control back stop is within 0.2mm. It can be turned up when the back stop material retreats to the limit, which is convenient for cutting the ultra long metal steel plate material. The shearing angle can be adjusted to reduce the distortion of sheet metal.
Denmark High Speed Guillotine Shear Machines Features
- Oil cylinder: 45 steel quenching and tempering treatment, fine boring and extrusion of inner hole (high strength of inner surface).
- Piston rod: 45 steel quenching and tempering treatment.
- Blade clearance hand wheel adjustment: accurate, fast and convenient. It has light alignment function.
- The upper tool rest adopts an inward inclined structure: it is convenient for blanking and improves the shearing accuracy of the plate.
- It can be cut in sections. The number of cuts can be set and displayed.
- The working table is of Y-shaped structure: it has the function of self compensation when metal plate shearing.
- There is a rolling supporting ball on the worktable: it can reduce the scratch of sheet metal and reduce the friction resistance.
- The front supporting rod has a ruler, side positioning and front positioning block: convenient for front positioning and cutting.
- Three point support rolling guide: no guide clearance.
- Rectangular blade: four blades can be interchanged for long service life.
- Electrical: Schneider products are used as the main electrical products.
- Advanced hydraulic integrated valve block: compact structure, reducing pipeline connection. The reliability and maintainability of the system are improved.
- The series cylinder makes the shearing angle of the machine tool not change when it is shearing.
- The return of accumulator is stable and rapid.
Wuxi Shenchong has many years of experience in manufacturing high-speed shearing machine and high-speed press brake bending machine. We have a good reputation in the industry and are trustworthy. Our equipment is exported to more than 50 countries and regions such as Netherlands and Australia.