Automated production and processing is a major trend in the global sheet metal market under Industry 4.0. As the most developed regions in the world, Europe has taken the lead in starting this trend. This article will introduce the top 9 sheet metal automation equipment manufacturers in Europe.
1. TRUMPF

TRUMPF is the most famous sheet metal automation equipment manufacturer from Germany. It specializes in machine tools for the processing of flexible sheets and tubes.
TRUMPF has laser cutting and welding technologies and bending, punching, and combination punches laser operations. It offers specialized machinery and automation systems, consultation, financing, and other services to their customers.
TRUMPF's target is to give high-quality products cost-effectively and dependably. TRUMPF laser systems benefit the industry by combining welding, cutting, and laser metal deposition into a single piece of flexible and convenient equipment.
TRUMPF's objective is to develop manufacturing technology by making it more cost-effective, precise, and future-proof. They seek to improve the efficiency of manufacturing, including the processes that occur upstream and downstream.
As a result, TRUMPF contribute to the development of tomorrow's industrial world. TRUMPF is the market and technological leader in industrial production machine tools and lasers, and its inventions influence practically every industry. Regarding the laser cutting automated production line, TRUMPF is very professional!
2. SHENCHONG

SHENCHONG is among the world leaders for CNC press brakes, guillotine shears, rolling machines and sheet metal automation equipment, to be a first-class machinery manufacturer and solution provider in the world.
SHENCHONG quickly expanded from a 20-employee manufacturer to a 300-employee enterprise because of its superior quality. In 2003, SHENCHONG began to enter the European and American markets.
Over the past 20 years, SHENCHONG has been strict with European high standards. It has sold high-quality sheet metal machines and other automation equipment to over 70 countries all over the world. In addition, the products have received a lot of praise.
The CEO of SHENCHONG is a firm believer in quality and innovation. SHENCHONG continues to invest in research and development, releasing new products and patents each year.
SHENCHONG's goal is to lead the sheet metal industry into a new era of automation! SHENCHONG builds customized solutions and provides tailor made proposal in sheet metal bending, shearing, rolling, welding, punching, stamping, laser cutting and storage to match customer target in terms of production efficiency, flexibility and return on investment.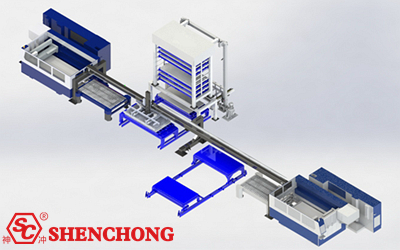 To provide quick and practical support to clients worldwide, SHENCHONG employ clever after-sales process management.
- Pre-sale: provide professional selection guidance
- On-sale: offer detailed production schedule
- After-sales: giveefficient solutions
The 24-hour online caring service makes customers more trust in their professionalism and reliability. For European countries and other remote areas, SHENCHONG offer timely remote guidance service and network diagnosis systems.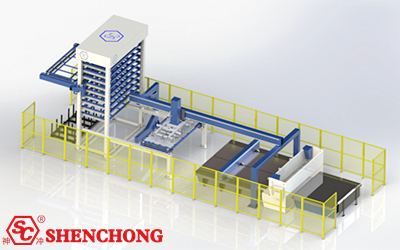 SHENCHONG can provide the customers with effective and competent service since 20 years of experience in sheet metal machine production, maintenance, and repair. Considering price, quality and service, SHENCHONG is the best choice!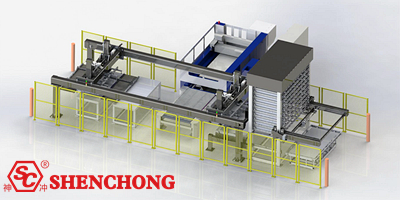 3. Bystronic

In the field of sheet metal automation processing, Bystronic is an Europe sheet metal automation leader in technology. Its high-quality solutions help you make the transition to a more productive and long-term future.
Bystronic focus on automating the cutting and bending process chain's whole material and data flow. The key to total digitization in the sheet metal sector is the intelligent integration of laser cutting equipment and press brakes with cutting-edge automation, software, and service solutions.
Field Service Technicians are strategically situated across North America to provide local on-site support. A Regional Service Manager is stationed in the geographical area to regularly contact the technicians and deliver prompt service. You can reach out to this high-performing Group via phone or email.
Included in the services are:
- Hotline assistance from a professional
- Maintenance programs that prevent problems from occurring.
- Resonator reconditioning on location
- Moving machinery
- Emergency maintenance service training
4. Salvagnini

Punching machines, panel benders, press brakes, fiber laser cutting machines, FMS lines, automatic store-towers, and software are all part of the Salvagnini Group's flexible sheet metal processing systems and machines. The Group provides direct customer service in 35 countries worldwide as a result of its global presence.
Service, competence, and innovation are three words that come to mind when thinking about its company. Salvagnini's work in flexible automation and industrial machinery for sheet metal processing can be summarized in the three words.
Since 1963, the Salvagnini Group has designed, manufactured, sold, and serviced high-performance modular and adaptable machinery and systems. Using proprietary punching, shearing, bending, cutting technology, and progressive production processes developed by Salvagnini.
Flexible sheet metal automation means transforming sheet metal packs into a wide range of finished products in a lean manufacturing environment – automatically and without operator intervention. Years of production line arrangement experience makes it a reliable Italian sheet metal automation equipment manufacturer!
5. Fanuc

FANUC is a renowned manufacturer of factory automation systems around the world. There's nothing they like more than automation; whether it's industrial robots, CNC systems, wire cut EDM, injection molding machines, or vertical machining centers.
FANUC has the largest selection of industrial robots globally, with over 100 models to have a choice. FANUC robots are simple to operate and give complete versatility thanks to various application-specific options, straightforward integration, payloads up to 2.3 t. Maximum reaches up to 4.7 m, which covers a wide range of applications and industries.
For a long time, FANUC has been offering manufacturers cutting-edge factory automation solutions.
All FANUC products have a common control platform, which is driven by the desire to maximize efficiency. It makes them eternally interchangeable, and their shared architecture eliminates the need for redundancies, ensuring high levels of flexibility while substantially lowering development and setup costs.
It is very professional in the manufacture and use of industrial robots. As a leader in the robotics industry, it makes industrial automation a cost-effective solution for a wide range of manufacturing processes.
6. KUKA

KUKA is a famous robot manufacturer in sheet metal automation. It is a multinational automation company with over 14,000 workers and sales of around 2.6 billion euros.
Augsburg, Germany, is the company's headquarters. In areas such as automotive, electronics, metal & plastics, consumer products, e-commerce/retail, and healthcare, KUKA gives customers everything they need from a single source: from robots and cells to fully automated systems and their networking.
At a kitchen appliance manufacturer in southern Germany, a KUKA robot from the KR QUANTEC ultra family is used to handle and deburr sheet metal parts using robots. The robot automatically picks up sheet metal parts and feeds them to a deburring machine.
7. DANOBATGROUP

Danobatgroup designs and manufactures machine tools, turnkey lines, and solutions for specialized applications aimed at high-tech industries and customers with high technical demands.
Danobatgroup product line includes modern machines with excellent accuracy, dependability, and productivity and machines built to handle the most challenging machining processes, developed advanced solutions for producing high-value-added components in close collaboration with industry leaders. Danobatgroup culminate in fully automated systems and turnkey lines besides advanced services based on the latest information and communication technologies.
DANOBAT, the global leader in grinding machine tool manufacturing, focusing on customizing solutions to meet the needs of each client. DANOBAT develops new products and provides complete solutions for both production lines and individual machines.
High-tech industries trust DANOBAT with high-tech demands. These grinders can be customized to match the needs of each client, regardless of the target market.
You can rely on metal processing: DANOBAT gives customers the efficiency and flexibility they require through fully customized solutions. Especially, they can offer an efficient coil fed laser cutting solution for you!
8. DIMECO

Dimeco offers sheet metal automated processing part manufacturing companies options. Stamping, punching, shearing, roll forming, and bending technologies are all available to ensure high production rates for completed or semi-finished sheet metal components from coils.
Dimeco has created customized solutions and provided custom-made equipment to meet customers' needs in terms of efficiency, flexibility, and return on investment since 1957. DIMECO has a total of 15 000 genuine spare parts references on hand.
The DIMECO teams will reply to your installation to diagnose it. Their in-depth professional study outlines the necessary changes and improvements to ensure the long-term viability of your DIMECO equipment.
Visit for inspection
For the safe functioning of machinery, an audit of the machine and its safety devices is performed.
Function evaluation
The DIMECO Training Center teaches you how to improve your technical skills and increase the efficiency of your operation. Thematic training tailored to your needs (Straightening practices, Straightening technologies and solutions, NC programming, production line operating, maintenance, etc.)
As a French company that emerged from coil processing, it has a very high position in the European coil handling and roll forming industry!


9. WEMO

WEMO is family business in the Netherlands. It creates, manufactures, distributes, and supports high-speed, flexible sheet metal processing lines. The sheet metal processing line covers including punching, bending, joining, and software.
Punching: coil and sheet punching are two alternatives for WEMO punching machine technology, depending on customer's products and requirements. Sensor or vision technology is used to keep track of the varied punching styles. After consulting with customer, WEMO always select the punching technique to achieve the best efficiency in your manufacturing process.
Joining: welding and clinching are two automated sheet metal joining procedures that can be employed in WEMO machine.
Bending: swivel bending, roll bending and press braking, CNC bending, Variable radius bending, and Corner forming are the five types of sheet material bending that a WEMO machine can do.
This is a manufacturer proficient in production module integration and production line design. It has cooperation with many companies around the world.
The above is the top nine sheet metal automation equipment manufacturer in Europe (update in 2022). Each manufacturer has its own strengths for different sheet metal processing. Users should fully understand their own processing procedures and actual needs before making purchases.