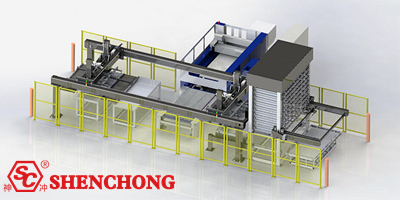 Shenchong automatic flexible production line is suitable for all kinds of laser cutting machines.
There are three types of automatic laser cutting center: cantilever type, double beam truss and single beam truss. It can realize automatic loading and unloading of sheet metal, separation of finished products and wastes, handling and storage of work pieces.
Intelligent Manufacturing Redefine Your Future!
Automatic

Laser Cutting Production Line Advantages and differences:
- Saving labor and time
- Safe and efficient operation
- Intelligent detection module for weight and size of metal plate
- Good compatibility
- Suitable for all brands of laser cutting machine
- More accurate and fast monitoring of the entire plant production
- Conducive to perfect staff allocation and cost control
- Laser cutting automatic production line customized according to factory requirements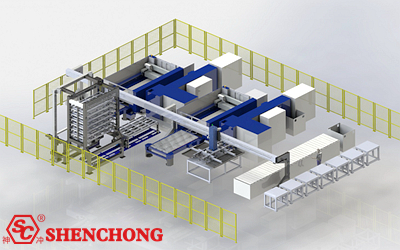 Auto Laser Cutting Line Features:
Unmanned production and flexible laser cutting full automatic production line
- Automatic loading and unloading system of laser cutting machine.
- Work 7 * 24 all day without rest.
- The function of fast feeding and unloading improves the utilization rate.
Intelligent separation and sorting
- With the plate sorting system, automated laser cutting center can realize the automatic separation of finished products and waste materials.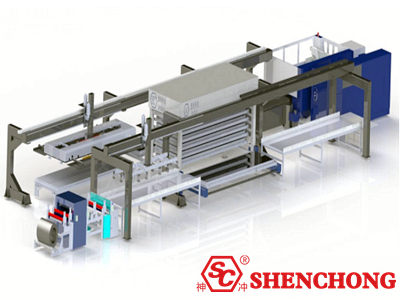 Connect and cooperate with intelligent sheet metal warehouse, robotic bending machine and other CNC equipment to form a complete flexible production line.
- Waste separation and finished product storage achieved by suction cups or forklifts.
- Add the functions of plate thickness measurement and double-layer plate detection.
- Automatically monitor the outbound and inbound conditions of plates.
- Clearly know the reserves of raw materials and the output of finished products.
- Through the intelligent system and related settings, users can even quickly grasp the scrap rate and error rate of the whole production.
- So as to better control the production cost and reduce the loss.
SHENCHONG Laser Cutting Flexible Lines FAQ:
Q: How to get an accurate laser cutting production line price from SHENCHONG?
A: Every customer can get laser automatic production line price from us. Please provide us the details of your sheet material, max thickness and max width, what kind of machine do you want to connect. Shenchong laser production unit can also connect with any other sheet metal processing machine. We have our own engineer team to design the technical propsal for you. Also, it is best to provide us your factory site space, and we will try best to design the most suitable technical proposal for you.
Q: What's the shipping cost from China to your country?
A: We can send machine to your port or door address by sea or railway. please kindly tell us your nearest port or address with postcode. we have reliable shipping agent to insure the safe convenient and time delivery. SHENCHONG is a professional laser auto production lines manufacturer, we will provide the best shipping proposal.
Q: Do you offer teaching & training?
A: Yes, after our engineers install and adjust the whole laser cutting production line, and also teach your workers how to operate the machine and how to do the daily maintenance.
Q: Do you offer after sales service?
A: Yes, during the guarantee period, Shenchong responds within 60 minutes after receiving the customer's failure notice. If the on-site service is required, we appoint professional and technical personnel to provide services such as consulting, maintenance and replacement of parts, and timely fill in the maintenance report (including the maintenance report (including the maintenance report (including The cause of failure, treatment and buyer's opinions, etc.).
SHENCHONG will remotely guide the customers in the maintenance and repair of all equipment and software of the project at the 6th and 12th months after the completion of project delivery.