The Multi-Function Ironworker Machine is a machine tool equipment that integrates multiple functions such as metal cutting, punching, bending, etc. It has the advantages of simple operation, low energy consumption, and low maintenance cost.
Ironworker combined punching and shearing machines are the preferred equipment for metal processing in modern manufacturing industries such as metallurgy, bridge, communication, power, military, and other industries. There are two types of iron worker machines: hydraulic iron worker machines and mechanical iron worker machines.
1. Multi-Function Ironworker Machine Applicable Scope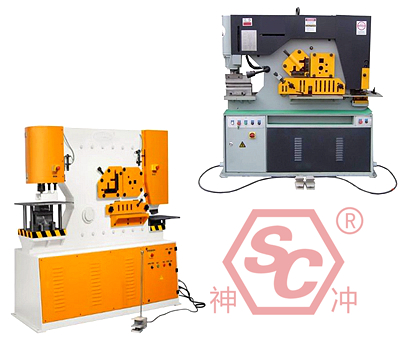 The combined punching and shearing iron worker is widely applicable for the processing of the following work pieces:
- Steel structural components
- Elevator car and components
- Trailer: spare tire parts, hinge of the trailer, plate hook, plug, and tile board
- Construction machinery industry: components on belt conveyors and mixing stations
- Agricultural and animal husbandry machinery industry: threshing frame body, trailer body parts
- Machinery in the food industry: slaughtering equipment racks and components
- High and low voltage tower components
- Wind power generation equipment: parts on stairs and pedals on wind power towers
- Mechanical processing: building embedded parts, conveyor brackets, and other components that serve as connections
- Grain machinery: supports and shell components for grain and oil equipment, starch equipment
- Railway, freight car, automobile, crane parts
- Cutting, punching, and bending of steel materials such as channel steel, square steel, round steel, H-steel, and I-steel
Also, CNC press brake can bending sheet metal and CNC shearing machine can cut steel plate. However, they all only have relatively single functions. Unable to have multiple functions of bending, stamping, and shearing simultaneously.
On the other hand, a single function equipment will focus more on a particular function, which means that the machining accuracy and quality will definitely be better. The multi-function ironworker machines are the opposite of them.
2. Ironworker Technical Regulations
- Before operating the equipment, it is necessary to check whether the transmission components of the combined punching and shearing machine, as well as the connecting screws and pins of each part, are loose, and whether the electrical grounding is intact.
- Lubricate each component. Start the equipment for a trial run of two to three minutes. Only when there are no problems can normal work be carried out.
- Overloading is not allowed. Quenched steel is strictly prohibited from punching and shearing.
- Wear gloves and labor protection equipment when working. Sandals and slippers are strictly prohibited.
- When multiple function iron worker punching and shearing, it is necessary to frequently refuel the punching tool. Strictly prevent the deflection of the upper and lower punching tools.
- Pay attention to finger safety when feeding. Especially when the sheet metal reaches the end and the presser foot cannot press the sheet metal, punching and shearing are prohibited.
- During equipment operation, it is strictly prohibited to disassemble, proofread cutting edges and dies. Do not forcefully strike the stamping die, cutting edge, and other machine parts.
- Strictly control the specification range of the sheet metal. When exceeding the range, punching and shearing are strictly prohibited.
- The workplace shall not pile up other items or large amounts of flushing materials. The equipment must be stopped during adjustment and cleaning.
- After the work is completed, shut down the machine, cut off the power, and clean the site in a timely manner.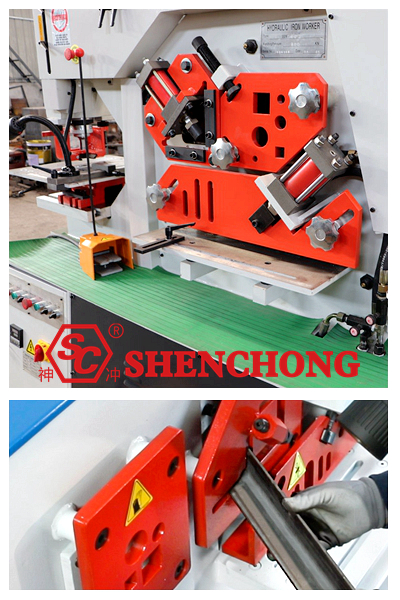 3. Ironworker Equipment Maintenance
- Strictly follow the operating procedures for operation.
- Before starting the equipment, add lubricating oil at a fixed time, point, and quantity according to the lubrication chart requirements. The hydraulic oil should be clean and free of sediment.
- The multi-function ironworker machine combined punching and shearing machine must be kept clean regularly. Unpainted portion of rust preventive oil.
- The lubricating oil inside the motor bearings should be replaced and filled regularly. And often check whether the electrical parts work normally, safely and reliably.
- Regularly inspect the triangular belt, handle, knob, and buttons of the combined punching and shearing machine for damage. Parts with severe wear and tear should be replaced in a timely manner and replaced with spare parts.
- Regularly inspect and repair switches, fuses, and handles to ensure their reliable operation.
- Add oil, lubricate, and clean the machine tool 10 minutes before work every day.