Sheet Metal Guillotine Shear For Sale
Cutting Thickness: 4-40mm
Cutting Length: 2000-6000mm
We accept customization based on customers' shearing requirements. You can also check our Front Feeding Shearing Machine and other Plate Shearing Machine models.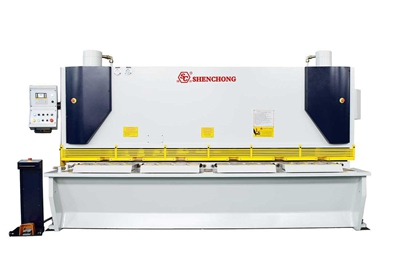 Intelligent Manufacturing Redefine Your Future!
CNC plate guillotine shearing machine provides high strength, high productivity, high precision, and safety to improving your bottom line. High precision CNC plate shears adopt the latest computer technology, compact structure and complete functions characteristic.
High Precision CNC Plate Guillotine Shear
CNC high-precision shearing machine adopts the CNC system, and the accumulator returns smoothly and quickly. The straightness of shear plate is ± 0.03mm/m and can be adjusted. The cut plate can be used for laser welding. Hydraulic guillotine shears CNC controls the length, width, thickness and angle of shearing.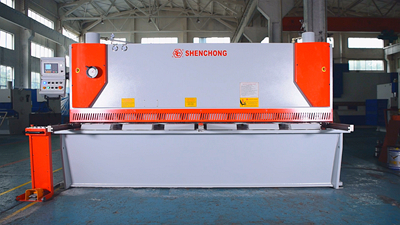 Hydraulic CNC Shearing Machine Advantages and differences:
- CNC controller controls the cutting angle through linear encoder feedback data and control the cutting stroke.
- The computer stores the corresponding list which shear angle and blade clearance with material, so that can control the adjustment of blade clearance to improve the cutting precision.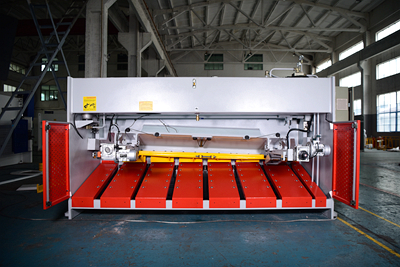 - Cutting linear accuracy: ±0.03mm
- Back gauge speed: 300mm/s
- Back gauge repeat positioning accuracy: ±0.02mm
- Back gauge optional positioning accuracy: ±0.05mm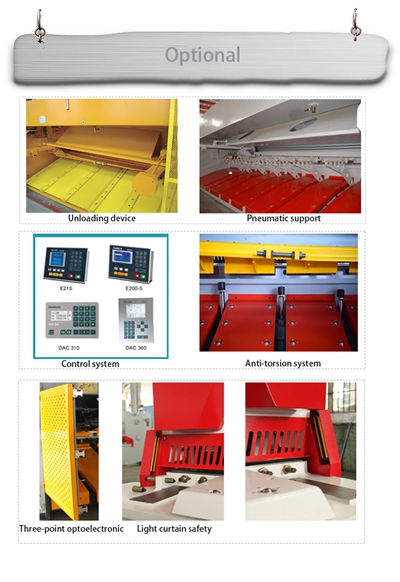 CNC Shearing Machine Parts:
- High-precision electric welding
- CNC Control System
- Automatic cutting angle adjustment
- Back-gauge adjustment actuated by a brushless motor with CANopen technology that combined with a high precision back gauge, directly assembled on the side frame of the machine, ensures fast movement and maximum precision
- Anti-Twist Device
- Blades grinded and hardened
- Squaring arm with millimeter ruler
- Lighting system of the cutting area
- Three-function sheet support
- Internal gear pump, quiet and reliable
- Dedicated hydraulic system
- Electric board with high quality components
- Start & Stop system
- Ram adopts six points supporting rolling rails without clearance, which improves the shearing precision
CNC Shear Machine Control System
ELGO P40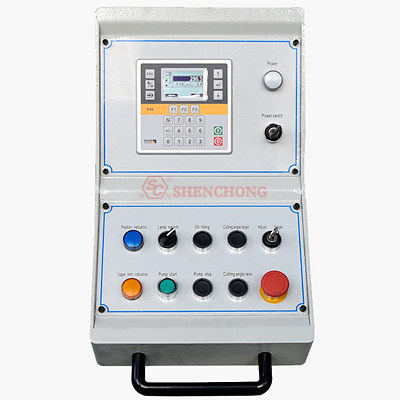 ELGO P40 is 1 or 2 axes position controller control system for sheet metal machines. It has one or two axis version by LCD display. It has the advantages of easy handling, multi-lingual menu navigation, option PID analog output available, reference run, and manual, single program mode.
- HD LCD display
- Convenient operation, easily to input the target value: cutting angle, blade clearance, cutting strokes and parts counting. Each axis target value, current value and pieces can be displayed on screen. These encoders input running in analog mode,
- Back gauge can be programmed.
- Manual fine adjustment operation
- Single running
- Program memory can control
- 1000 program sentence
- Digital transmission output end
- ANAOUT
- The computer store the corresponding list which shear angle and blade clearance with material
DAC-360T

DAC-360T is for versatile shear control solution offering broad functionality. It provides a user-friendly and versatile touch control solution for shears. The back gauge control supports servo control, 2-speed AC control as well as inverter control. Full force control for clamping and cutting is available in the DAC-360T.
Hydraulic CNC Guillotine Shearing Machine Applications:
SHENCHONG CNC hydraulic plate shearing machine with super high precision has strong advantage in laser tailor welding industry or other industries for high accuracy sheet metal processing.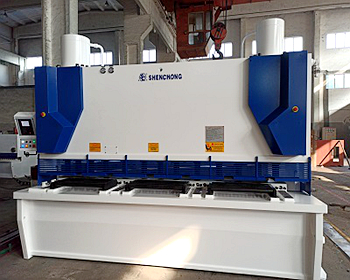 CNC Shearing Machine Shipment:
As the experienced plate guillotine shearing machine factory, Shenchong exported metal shearing machine to more than 70 countries globally over 20 years. We have different models of hydraulic guillotine shear for sale, contact us today!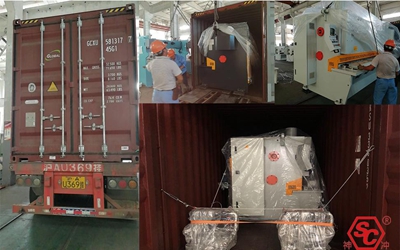 CNC Guillotine Shearing Machine Pre-Sale FAQ
Q: How to get CNC shearing machine price from SHENCHONG?
A: Every customer can get direct sheet metal plate guillotine shear price from us. Shenchong is one of the most famous China plate guillotine shearing machine manufacturers, and we can offer you detailed technical proposal and price. Please provide us your plate material type, max thickness and max length.
Q: What's the shipping cost from China to your country?
A: We can send cnc shearing machine to your port or door address by sea or rail, and so please kindly tell us your nearest port. We have reliable shipping agent to insure the safe convenient and time delivery.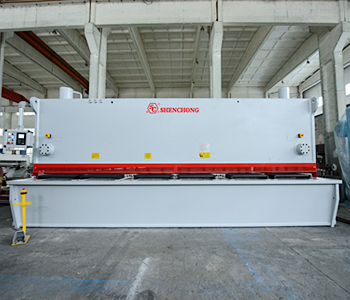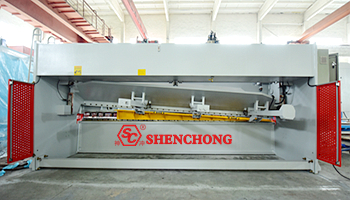 Q: Do you accept LC payment?
A: Yes, normally our payment is 30%+70% T/T, LC payment is also acceptable. Our CNC plate shearing machine price is affordable, contact with us today!
Q: Do you have installation and training service?
A: Yes, Shenchong is a reliable sheet metal CNC shearing machine supplier with full exporting experiences. Installation Services are available with all our machines. We dispatch technician to customer's factory for installation and pre-operation of machines. (Customers only need to pay the airfare and hotel)
We provide detailed guillotine shear machine user manuals and training videos, or customers can set a video call with our sales and engineers. Our technician is available to your factory and offer training of how to use our machines. The buyer needs to afford plane tickets. As well, you may send your technician to our company to learn how to operate machines.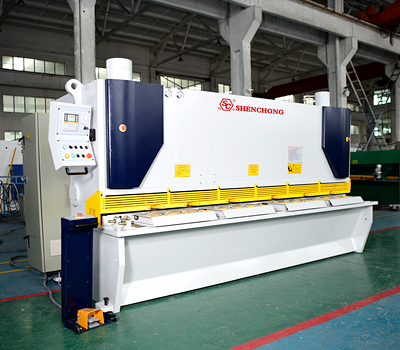 CNC Guillotine Shear FAQ
Q: What is the function of CNC plate shear machine?
A: The main function of plate shears is in the metal processing industry. Most of the high precision straight-line cutting of sheet metal uses CNC hydraulic shearing machine.
The products are widely used in light industry, metallurgy, chemical industry, construction, aviation, shipping, automobile, electric power, electrical appliances, decoration and other industries. Use ShenChong CNC shear machine for sale to enjoy unique metal cutting experience!
Q: How to get cheap cnc shearing machine for sale?
A: As an original shear machine manufacturer, we give back the best price to our customers. Factory direct sales, no middlemen to earn the difference.
With such a low price to buy an ultra-high precision shearing machine for sale, this cost-effective is super high! Wholesale, multiple orders, more favorable price! We guarantee that each sheet metal CNC shearing machine for sale is brand new and never used with complete factory warranty.
Q: Why buy a new hydraulic guillotine shearing machine?
A: Excellent sheet metal cutting quality, super cutting accuracy and convenient and quick operation are the biggest characteristics of the CNC hydraulic guillotine shear machine for sale.
If you buy a manual shear machine or swing beam shear machine, the accuracy of shearing and the quality of cut surface will be greatly reduced.
If you buy a second-hand/used shearing machine, you will often have problems in production, and the service life of second-hand machines is short.
SHENCHONG CNC hydraulic guillotine plate shear machine for sale provides high strength, productivity, precision, and safety.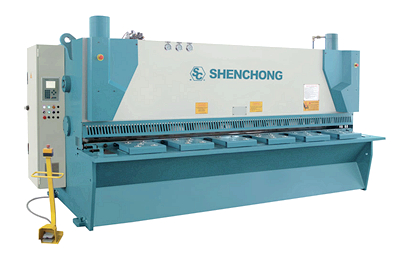 Q: Why choose Shenchong guillotine shearing machine for sale?
Shenchong as one of the top 3 cnc shearing machine brands from China with full experience in exporting and excellent global market reputation. Shenchong cnc plate shearing machine for sale has ISO9001, CE and all other certifications as quality trust endorsement.
As leading company in guillotine shearing machine industry, Shenchong keeps innovating in CNC hydraulic guillotine shears details to improve cutting precision and linear. Has always been imitated, but never been surpassed.
Direct factory price and experienced over-sea after sales team not only provides best price but also eliminate customers' concerns about any shearing machine problems.