CNC Turret Punching Machine is the abbreviation of digital controlled punching machine, which is an automated machine tool equipped with a program control system. This control system is capable of logically processing programs with control codes or other symbolic instructions, and decoding them to enable the punching machine to operate and process parts.
1. CNC Turret Punch Characteristic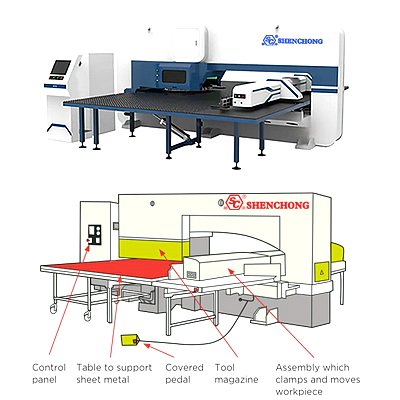 The operation and monitoring of the CNC turret punch are all completed in this CNC unit. The CNC system is the brain of CNC punching machines.
Compared with ordinary punching machines, CNC turret punching machines have the following characteristics:
- High machining accuracy. Has stable processing quality.
- Large processing format. It can complete a processing format of 1.5m * 5m at once.
- It can perform multi coordinate linkage and process complex shaped parts for shear forming, etc.
- When processing parts, it is generally only necessary to change the CNC program. It can save production preparation time.
- The punch machine itself has high accuracy and high rigidity. Favorable processing quantities can be selected. High productivity.
- The turret punch has a high degree of automation, which can reduce labor intensity.
- Easy to operate. After 2-3 days of basic computer knowledge training, workers are able to get started.
2. CNC Punching Machine Function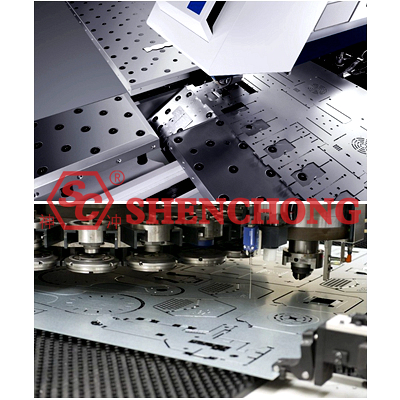 CNC turret punching machines can be used for processing various types of metal sheet parts, and can automatically complete various complex hole shapes and shallow stretching forming processes at once. It can automatically process holes of different sizes and pitches according to requirements, and can also be used to punch large circular holes, square holes, waist shaped holes, and curve contours of various shapes with small dies in a step-by-step manner. Special processes can also be carried out, such as louvers, shallow stretching, countersunk holes, flanging holes, reinforcing ribs, embossing, etc.
Through simple mold combinations, CNC punching can complete many complex machining tasks. Compared to traditional stamping, it saves a lot of mold costs. It can use low-cost and short cycle processing to produce small batches and diverse products, with a large processing range and capability, thus adapting to market and product changes in a timely manner.
3. CNC Turret Punching Force Calculation
The punching shear force required for CNC turret punch press machine can be calculated based on the punching shape and material thickness.

Punch Force And Tonnage Calculation Methods:
The following is an introduction to the calculation method of the punching force for non oblique edge core punching.
Punching Shear Force (kN) = Punching Core Circumference (mm) × Plate Thickness (mm) × Shear Strength Of Material (kN/m㎡))
Converted to metric tons: kN ÷ 9.81
Note:
- Punch core circumference refers to the sum of the lengths of each side of any shape.
- The thickness of the sheet refers to the thickness of the sheet that needs to be punched and penetrated when punching the core.
- The shear strength of the material is the physical property of the plate, which is determined by the material of the plate.
The shear strength of common materials is as follows:
| | |
| --- | --- |
| Material | Shear Strength |
| Aluminum (5052H32) | 0.1724 |
| Brass | 0.2413 |
| Mild Steel | 0.3447 |
| Stainless Steel | 0.5171 |
Click here to konw Press Brake Tonnage Calculation
4. Clearance Of Punching Molds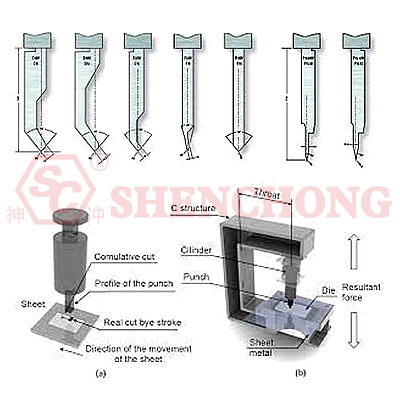 The gap between the upper and lower molds is represented by the total difference. For example, using Φ 12 upper mold and Φ When lowering the mold on 12.25, the gap is 0.25mm.
This clearance is one of the most important factors in punching. If the gap is not selected properly, the life of the mold will be shortened, or burrs will appear, causing secondary shearing, etc.; the shape of the incision will be irregular, and the demoulding force will increase.
Therefore, it is very important to choose the correct clearance of the punching die. The mold gap will be affected by the material material. Generally, 10-20% of the plate thickness is optimal for carbon steel.
If there are no special requirements for CNC turret punching machines, they can be selected according to the following table:
Thickness

Clearance

Medium carbon steel

Aluminium

Stainless steel

0.8-1.6

0.15-0.2

0.15-0.2

0.15-0.3

1.6-2.3

0.2-0.3

0.2-0.3

0.3-0.4

2.3-3.2

0.3-0.4

0.3-0.4

0.4-0.6

3.2-4.5

0.4-0.6

0.4-0.5

0.6-1.0

4.5-6.0

0.6-0.9

0.5-0.7