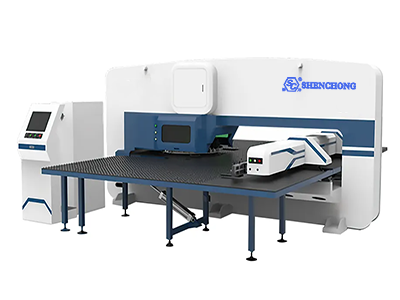 SKC30 CNC Turret Punching Press Features:
SHENCHONG CNC SKC30 Series Turret Punch Press Holistic welding structure, stress relief from tempering treatment. The strong rigidity and high tonnage ensure the stable accuracy for long time, extend the service life. The advanced and reliable punching system can automatically select the stroke for materials with different plate thickness, which can be processed with special technology very conveniently.
CNC Turret Punching Machine Applications:
SKC 30 Series CNC turret punch press is widely used in plate processing in electrical case, electric cabinet, instruments and meters, hardware & electrical appliances, textile machinery, lift decoration, marine air conditioning and other industries.
Intelligent Manufacturing Redefine Your Future!
Also welcome to check with our related products:
Loading and Unloading System For Punching Machine
SHENCHONG CNC Turret Punch Press Models:
CNC Full Servo Punch Press For Sale
Why Full Servo CNC Turret Punch Press is your FIRST Choice?
Advanced CNC Servo system with pressure valve to precisely control the speed, volume and pressure of oil flow.

To control the RAM stroke distance on both ends, hence the height and depth of each punch becomes programmable with 0.1mm accuracy.

Uniquely designed Machine structure ensures less preventive maintenance

The AC punch servo motor can be programmed for various applications.

High speed applications.

Low noise applications.

Forming applications.
CNC Hydraulic Turret Punch Press For Sale
The hydraulic main transmission system of German Bosch Rexroth can automatically select strokes for materials with different thicknesses, which can be very convenient for special process processing, such as shutters, knock-out holes, etc., with automatic hydraulic overload protection, constant stroke throughout the process pressure, so that the stamping quality reaches a very high level.

The control system is SIEMENS numerical control system.

The turntables processed in pairs adopt a long insert structure, which ensures the coaxiality of the upper and lower molds and prolongs the service life of the mold. The use of insert structures prolongs the service life of the turntable.

The international supporting pneumatic components ensure the reliability of the whole machine performance.

Imported large-lead ball screw and linear guide rail are used to ensure the turret punching machine rotation accuracy.

The steel ball and brush mixed workbench not only reduces the noise and vibration when the machine tool is working, but also plays a good role in protecting the surface of the processed plate.

The closed body is adopted, and the whole machine is tempered to completely remove the stress.

The automatic protection function of the clamp can only do displacement movement without stamping in the protection area to ensure the continuity of program operation.

Equipped with a centralized lubricating device, the lubricating oil can be directly sent to each lubricating point, which reduces the friction of the movement and improves the service life of the machine tool.

The mold distribution is divided into A, B, C, D according to the AMADA structure, which is convenient for users and saves mold manufacturing costs.

Low foundation requirements and easy installation.

Software: The company independently develops ST-V8.5, which can add functions according to customer requirements and provide free upgrades for customers for life; no programming is required, and AutoCad graphics can be automatically converted into processing programs; it has its own mold library management system; automatic plate repositioning; It can realize functions such as one-button operation, breakpoint processing, piece counting display, and simulation real map display of processing trajectory.
CNC Mechanical Turret Punch Press For Sale
The closed O-shaped fuselage welded by steel plate has good rigidity and high stability.

Simple and easy-to-learn humanized control system, easy to operate (imported stamping special system, strong function).

CAD automatic programming, identify Pro-cam conversion code, realize on-site programming and background programming.

The domestic unique clamp avoidance function realizes the processing of plates without dead zone.

The stamping speed can be adjusted to enhance the flexibility of the equipment.

The transmission system adopts imported high-precision, large-lead ball screw and linear guide rail, with high precision and good performance.

The main pneumatic components and electrical components adopt stable imported brand products to make the performance of the machine tool more perfect.

Centralized lubricating device to reduce the friction of each inactive pair and improve the service life of the machine.

The turret adopts Japanese technology thin turret, long guide and heat treatment to remove internal stress, good rigidity, stable precision and strong impact resistance.

The mold adopts advanced processing and heat treatment technology, which has a long service life and the model is universal in the world.

High-performance fully automatic floating clamp, universal ball and brush mixed structure workbench.
CNC Turret Punching Machine Standard Configuration: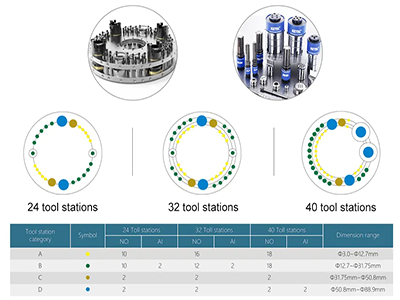 SHENCHONG CNC Turret Punch Press has equipped with 32 station turntable and 2 auto indexed station Equipped with automatic lubrication system, sheet deformation monitoring device.
FAQ
Q: Are you turret punching machine manufacturer or trading company ?
A: We are turret punch press factory with more than 20 years of manufacturing experience.
Q: How long is your delivery time for CNC turret punching machines?
A: General speaking, if the machines is in stock, we can delivery them with 3-7 days, If the quantity is 1-2 container, we can give you with 25-35 days, if the quantity is more than 2 containers and you are very urgent, we can let factory priority produce your machines.
Q: What is your terms of payment ?
A: We can accept T/T, LC. For TT, we need receive 30% T/T in advance, balance before shipment.
Q. How about your machine quality?
A: Our machines distribute worldwide to about 80 counties where there are metal plate industry ,there are Brilliant machines And where there are our machines,there are good reputation and terminal user satisfaction. We will try our best to provide you affordable CNC turret punch press machine price. Contact with us and get quotation today!
Q.How about your after-sale service?
A:
1.Technical solutions: we can provide technical solutions within one day.
2.Online video: Show you turret punching machine working video in factory.( update every week)
3.Installation service: This is available with all of our machines, live video can be provided. We can also dispatch technician to customer's factory for installation machines.
4.Training service: Our technician will teach you how to use our machines. As well, you may send your technician to our company to learn how to operate machines.
5.Quality guarantee: 1 years warranty, we provide lifetime service. We arrange final test before shipment, After making sure machine is the best performance, then make shipments.
6.100% response rate: we will reply your questions within 12 hours.