1. SHENCHONG (China)
SHENCHONG is one of the famous press brake manufacturer and supplier in China. SHENCHONG was founded in 2002, started from an OEM factory for many famous european bending machine brands.
It is an enterprise specializing in the production of sheet metal processing machinery such as CNC bending machine, plate shearing machine and rolling machine.
Serving customers and creating a first-class brand is the goal of the company. The perfect manufacturing process is the company's guarantee of product quality.

Advantages of SHENCHONG hydraulic CNC bending machines:
– Easy, convenient, and safe operation or use.
– Advanced R & D and manufacturing technology
– Strong production and after-sales capabilities
– High accuracy, low energy consumption, and competitive prices.
– All the parts used in the CNC press brake for sale meet European standards.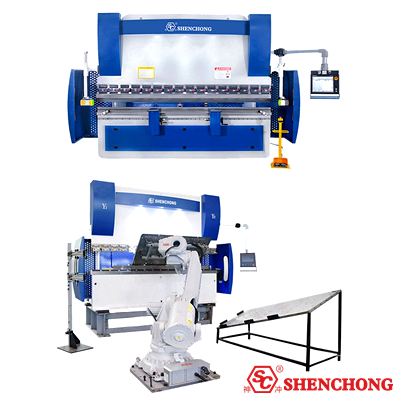 Recommend model Shenchong press brake model:
- Servo Hybrid Press Brake: No leakage. Eco-Friendly. Super quietly, 20 dB only. Super high speed, up to 300mm/s without vibrate. Save more than 80% electricity. Multi-axis available, even more than 6 axis. The high speed, high efficiency, high precision, low noise, and energy-saving, these features can especially catch the high-end users.
- Robotic Press Brake Machine: Reduce labor costs and labor intensity. Good consistency of work piece accuracy. Connect with other sheet metal automation equipment, and communicate with the industrial MES system to achieve continuous unmanned production.
- Press Brake Bending Sheet Follower: Semi-automatic tool help workers to turning up during the bending operation. Servo bending follow-up can cooperate with the CNC press brake to quickly form a semi-automatic production unit. Save labor, fast and flexible, mass production.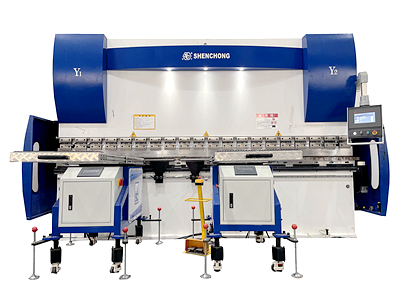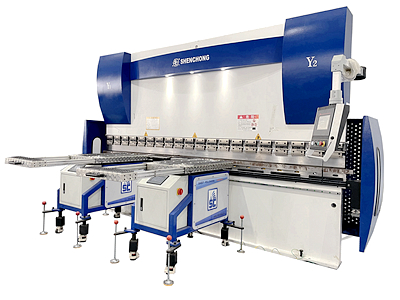 Disadvantages:
– At present, they mainly produce CNC plate bending machines and fully automatic high-end equipment.
– Cannot meet the needs of customers who are looking for very cheap and very simple machines.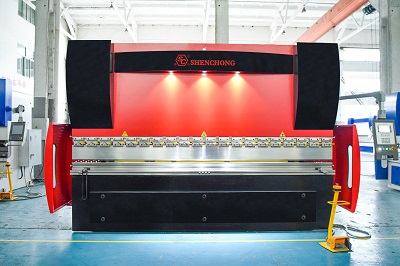 Advice:
For customers with limited funds and conditions, SHENCHONG hydraulic CNC press brake with higher cost performance is a good choice. The price is acceptable to most ordinary users. You can buy a plate bending machine with perfect quality and performance for production and processing at a reasonable price.
1. AMADA (Japan)

Amada is a world-class brand in the sheet metal industry and enjoys a high reputation in many countries and areas, such as China, the United States, or Europe.


Amada CNC plate bending machine advantages:

– Comprehensive and reasonable mechanical structure
– Efficient and pollution-free operation
– Advanced technology of simulation automation
– Perfect CNC plate bending machine services
Disadvantages:
– Expensive and high CNC plate bending machine price
– Good performance CNC plate bending machine operation more complex
– Non-professional novice difficult to operate
– The structure and system of high-end bending machine unique and advanced, needed professional operators to maintenance and repair
Advice:
Amada CNC plate bending machine is suitable for customers with sufficient funds and strong strength. Users with high requirements can purchase Amada CNC plate bending machine to process sheet metal parts with high standard and quality.
3. YSD (China)
YSD is HUBEI TRI-RING METALFORMING EQUIPMENT CO., LTD, established in 1958. It is a professional manufacturer of sheet metal forming machines in Huangshi City, Hubei province, China. YSD, a listed company, has cooperated with Belgium LVD for 30 years.

Advantages of YSD CNC hydraulic press brake machines:
– Have advanced European technology, a long-term and stable cooperative relationship with Belgium LVD
– China long history state-owned enterprises have good quality and a good reputation all over the world
– Strictly comply with ISO9001, CE, CSA, HPS, DHC and other standards certification to ensure the high quality of CNC hydraulic press brakes
– Timely and preferential after-sales service
Disadvantages:
– The appearance of YSD bending machine is old, not very new.
– As a state-owned enterprise with a long history, the whole enterprise is relatively conservative and will not have great innovation and breakthroughs in press brake manufacturing.
– The products are limited to CNC machine tools, and there is not much involved in the field of sheet metal flexible production, such as robotic press brake automation, automatic bending line, and so on.
Advice:
As an old Chinese enterprise, the quality of YSD CNC plate bending machine is very excellent. It is very suitable for users who need durable bending machinery for sheet metal processing. If you want to purchase LVD style CNC bending machine in China, you can also consider YSD. Because these two CNC plate bending machine manufacturers have a long-term stable cooperation.
4. Yawei (China)
Yawei is the most famous press brake manufacturer and supplier in Yangzhou, Jiangsu, China. It constantly introduces the concept of foreign designers, and actively participates in exhibitions around the world.

Advantages of Yawei CNC machine:
– China's first listed company in sheet metal forming machine tool industry
– Strong capital, economic strength, and production capacity of CNC plate bending machine fabrication
– High speed, high precision, high rigidity
– Shortened compensation time with high bending accuracy
Disadvantages:
– As Yawei CNC plate bending machine has a high reputation in China, there are many fake products. Users need to carefully identify and select.
– Low-cost performance.
– Many people on the Internet reflect that yawei press brake bender failure rate is high. For example, the bender often leaks oil.
Advice:
If you want to choose a famous CNC plate bending machine manufacturer in China, Yawei is a good choice. When purchasing the CNC hydraulic press brake machinery, you will enjoy very thoughtful services. As a famous brand in China, there are many imitations. Please Sharpen your eyes and distinguish carefully!
5. Hasil Karya (Malaysia)
Hasil Karya was founded in 1983, a leading distributor of industrial machinery and tools in Malaysia. It is one of the leading CNC bending machine suppliers in Malaysia, widely distributed CNC hydraulic press brakes in Malaysia according to the user's preference.

Hasil Karya CNC hydraulic press brake advantages:
– Unique electronic and mechanical characteristics
– Help you improve productivity based on your application needs
– Keep CNC plate bending machine costs to a minimum with its user-friendly CNC controller and low-cost hydraulic maintenance
Disadvantages:
– The product covers a wide range, but not proficient in the bending machine.
– To be exact, it is a CNC plate bending machine Malaysia supplier, not a professional fabricator.
Advice:
If you are looking for a bending machine supplier in Malaysia, it is reliable. Hasil Karya can recommend and sell suitable models for customers according to different needs of users.
6. Yeh Chiun (China Taiwan)
Yeh Chiun is famous for producing high-precision NC / CNC multi-axis hydraulic press brake machines, automatic synchronous integrated systems, automatic production lines of forming equipment, and a complete set of equipment.

Yeh Chiun CNC hydraulic press brake advantages:
– Yeh Chiun CNC plate bending machine Taiwan develops and produces bending machine, well known for its excellent quality and reliable service.
– Certified with ISO-9001 quality assurance system and CE machinery directive and EMC compliance.
– To achieve the goal of producing high-quality CNC plate bending machines for sale at a reasonable price.
Disadvantages:
– No rich type of CNC press brake machinery and numerical control system for different customers to choose from.
– Limited product categories, mainly multi-axis electro-hydraulic CNC press brake benders.
– CNC press brake control system used is relatively simple, just based on the DELEM series.
Advice:
Yeh Chiun press brake manufacturer's advantage product is the multi-axis high precision press brake machine. When you purchase high precision multi-axis CNC press brake Taiwan style with DELEM control system, you can consult this company.
7. RAJESH (India)
RAJESH is a new hydraulic CNC plate bending machine manufacturer in India in the sheet metal machinery industry. The group is building India's largest sheet metal machinery manufacturing plant to achieve its vision for 2031.

RAJESH bending machine advantages:
– CNC plate bending machine factory is very large.
– Strong productivity and economic strength.


Disadvantages:
– As a new bending machine manufacturer, the history and experience is slightly insufficient.
– Technically, it is not as mature as the old brand machine fabricators.
Advice:
– RAJESH is a new company, suitable for users who are looking for a confident and dynamic partner.
8. Shearchy (China)
Shearchy is an influential manufacturer of CNC machine tools and sheet metal processing equipment. Shearchy machine quality is due to strong materials, thoughtful design, and intuitive control, as well as additional options and add-ons.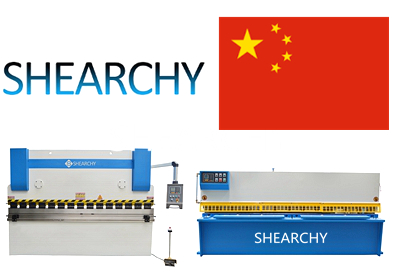 Advantages of CNC hydraulic press brake Shearchy:
– Combine quality, performance and accuracy
– Fully configurable according to customer needs
– Compliance with EU CE Directives
- Shearchy Easy bend NC press brakes are optional for users with a low operation cost. It is suitable choice for customers who need press brake under than 250 Tons.
- Shearchy also has EuroBend press brake for high-end customers.
Disadvantages:
– The products are mainly at the middle and low end. Mainly for general public users.
- It has insufficient experience in high-end equipment. For example: ultra-high speed and ultra-high precision equipment.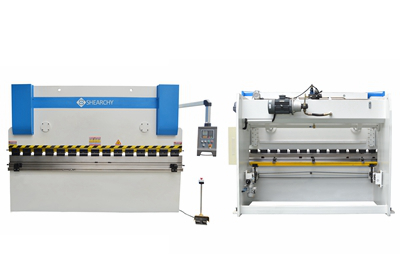 Advice:
– For users who don't want to invest too much and only need to do common sheet metal processing, not high precision, Shearchy bending press machine is more than enough.
– Low price and standard quality are always the advantage of Shearchy CNC press brake machines. If you want to buy a cheap bending machine from China, it is very suitable!