1. CNC Turret Punch Press Application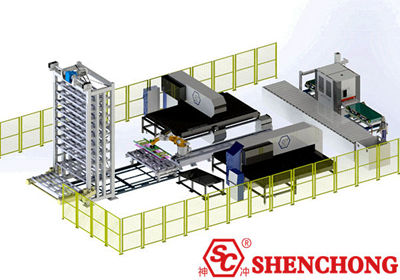 The CNC turret punch press can be used for processing all kinds of metal sheet parts, and can automatically complete a variety of complex hole patterns and shallow drawing forming processing at one time. Punching method can punch large round holes, square holes, waist-shaped holes and various shapes of curved contours, and can also be processed by special processes, such as shutters, shallow stretching, countersunk holes, flanging holes, reinforcing ribs, embossing, etc.. Through simple die combination, compared with traditional stamping, it saves a lot of die cost, can use low cost and short cycle to process small batches and diversified products, has a large processing range and processing capacity, so as to adapt to the market in time with product changes.
It is widely used in machinery, electrical equipment, screen mesh, ironware, car parts, box, plate,cabinet, and etc…
2. Moving Axis Of Turret Punch Press
- X axis: Horizontal moving.
- Y axis: Vertical moving.
- A axis: Rotation-table moving.
- C axis: Rotation mold moving.
3. Turret Punch Press Processing Methods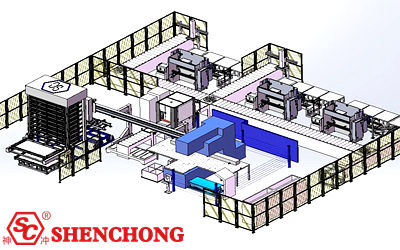 Know More About Sheet Metal Automation Production Line
- Single stamping:
Single completion of punching, including linear distribution, circular arc distribution, circular distribution, grid hole punching.
- Single direction continuous stamping:
Partial overlap rectangle molds to process long hole type and cutting, and etc.
- Multi-direction continuous stamping:
Small mold punch big hole.
- Nibble stamping:
Small circle mold continuously stamps arc shape hole in a small step.
- Single forming:
Single stretching and forming in mold shape.
- Continuous forming:
Forming size larger than the mold's.
- Array forming:
Processing several same or different work pieces in a large sheet plate.
4. How to Choose The Model?
Mechanical type:
- 30T/16, 24, 32, 38(station)
- 40T/16, 24, 32, 38
Servo type:
- 20T/16, 24, 32, 38
- 25T/16, 24, 32, 38
If the thickness of steel plate is more than 4mm, it suggests using mechanical type in practice.
Servo type usually serves for steel plate which thickness is less than 3mm and stainless steel less than 2mm.
The CNC Turret Punch Press includes 2 rotate stations in 24, 32, 38 stations type.
5. What is rotate station and why need it?
Rotate station is a separate rotation table, it can rotate. If you want to bend tilted shapes, it only needs to rotate the mold in rotate station so that you don't have to change the molds or customize the molds.
6. Speed
Mechanical type:
- Max stamping speed 260-280 HPM
- Max feeding speed 60m/min
Servo type:
- 0-900 HPM: Max stamping speed 900 HPM
- Max feeding speed 80m/min
7. Processing Dimension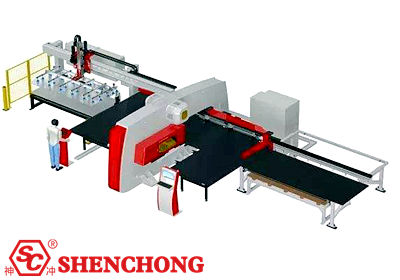 A: φ3-φ12.7
B: φ12.7-φ31.7
C: φ31.7-φ50.8
D: φ50.8-φ88.9
If the mold size is in range of stations amongst A, B, C, D, whatever the shape is, it can be putted in.
8. Compared with ordinary punches, CNC punches have the following characteristics
- High processing precision and stable processing quality.
- Large processing size: 1.5m*5m processing size can be completed at one time.
- Multi-coordinate linkage can be carried out, and parts with complex shapes can be processed for shear forming, etc..
- When the machining parts are changed, generally only the NC program needs to be changed, which can save production preparation time.
- The punch itself has high precision and high rigidity, and can choose favorable processing amount and high productivity.
- The punching machine has a high degree of automation, which can reduce labor intensity.
- Easy to operate, with a certain basic computer knowledge training 2-3 days can get started.
You may also want to know CNC press brake machine.
9. Advantages of CNC Turret Punch Press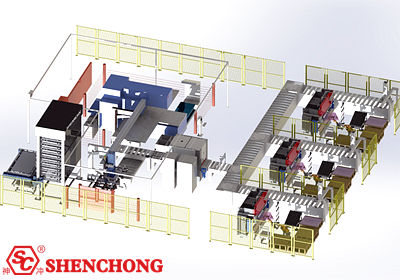 - Accuracy: Our machine installs SHANGYIN ball screw, the accuracy is 0.023mm.We promise positioning accuracy less than 0.1mm.
You know the accuracy would be bad under the large working strength for a long time, so high precision ball screw is very important.
- Control system: Imported from Germany Rexroth and the punch head is also Germany Rexroth.
- The feeding device pedestal is whole casting which against distortion.
- Two rotate station: It can punch nonstandard shapes without changing molds.
- The clamp can auto-escape when punch head moving on.
- The spring which installed in mold is imported from Japan, it costs $1.5 for each. This spring has long working life. Big resilience force and can make stretching piece.
- We consider the dimension of container so we design to be a foldable machine to put into container. The size after fold is 4500x2200x2150.It avoids the damage from separation and installation, also guarantee the precision of punch press.