This automatic press brake bending unit is ordered by Ballot New Materials Company. The work pieces are stainless steel printed sheets.
1. Processing difficulties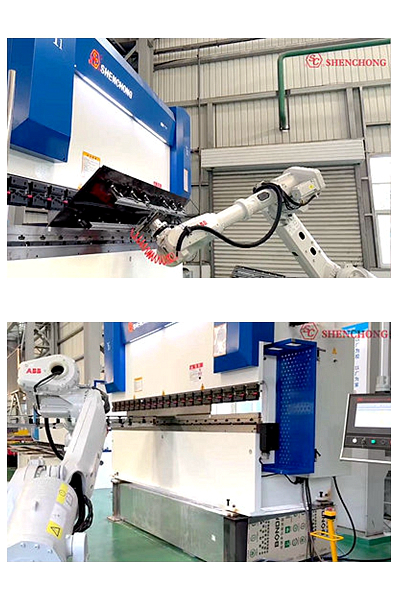 In lifting process, the plates are easy to deform due to gravity, which affects the bending accuracy. So it needs a large area of steering platform. At the same time, three skilled operators are required.
It is necessary to measure while bending. Also be careful of damage to the surface layer of the board. Its processing flow is more complicated.
After design and adjustment by our professional engineers, the automatic bending unit composed of Shenchong CNC press brake and 200kg ABB robot was put into production.
Click here to know more about the case:
200KG ABB Robot Press Brake Automatic Bending Unit
2. SHENCHONG automatic bending advantages
The automatic press brake bending mainly improves the bending speed and accuracy, while the product defect rate is significantly reduced. And the number of operators is reduced to one, reducing the labor cost.
3. Why you need robot press brake automation?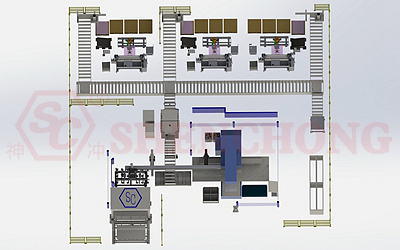 With the adjustment, upgrading and transformation of the product structure of the manufacturing industry, enterprises in the sheet metal processing industry should continue to use modern science and technology to improve their own comprehensive capabilities in product development, design, manufacturing and service.
Sheet metal automation technology will change the design, manufacturing, operation, service and production system, workpiece, equipment and the interaction between people. The sheet metal manufacturing industry will be transformed from an isolated production unit into a complete automated production line, and can be interconnected to improve the flexibility, productivity and quality of the manufacturing system.
The complete transformation to Industry 4.0 will take a long time. However, some key advantages of automated production have begun to emerge. This change will bring great opportunities to innovative sheet metal manufacturing enterprises. It will also pose a threat to the laggards who are unwilling to act.
Customers should move as soon as possible! Start the process of automation and intelligence gradually right now!