The customer is Ballot New Materials Company. The sheet metal bending work piece processed by the robotic press brake automatic bending unit is a stainless steel printed sheet.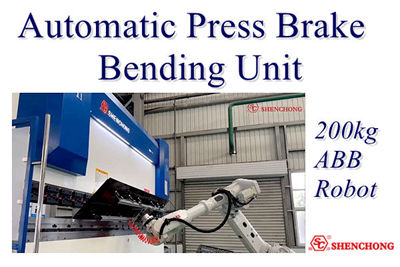 Processing difficulties:
During the lifting process, the plates are easy to deform due to gravity, which affects the bending accuracy. Therefore, in the process, it needs a large area of steering platform. At the same time, three skilled operators are required.
It is necessary to measure while bending. Also be careful of damage to the surface layer of the board. Its processing flow is more complicated.
After design and adjustment by our professional engineers, the bending unit composed of Shenchong CNC press brake and ABB robot was put into production.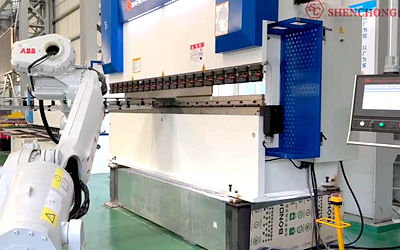 Automatic bending unit configuration:
- Servo hybrid CNC press brake 170Ton 4000mm
- 200kg ABB robot
- Feeding platform
- Centering platform
- Stacking platform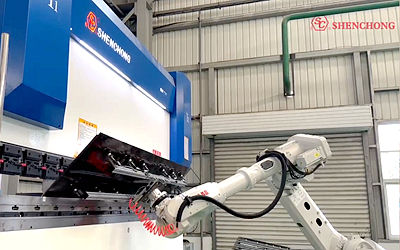 Production flow:
The whole bending process lasts for 100 seconds, including:
- Loading for 10 seconds
- Centering for 10 seconds
- Six step bending for 70 seconds
- Stacking for 10 seconds
Automatic bending adavantages:
- Automatic bending unit increases bending speed and precision.
- Significantly reduce the product defective rate.
- Reduce the number of operators.
- Save labor costs.