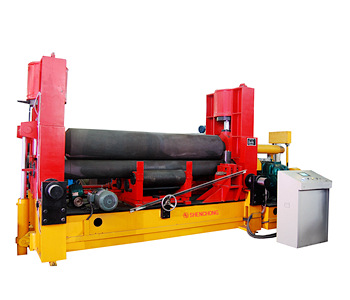 SW11SNC upper roller universal 3-roll plate bending rolling machine owns ascendant performance, compact structure and convenient operation. Its control system setups remote control (wired), used for operating the upper roller up and down and driving roller pros and cons rotation, bearing turning and machine stop when operators leave the control cabinet. The upper roller adopts displacement sensor to detect the digital readout on the display. It can directly observe the displacement of the upper roller and the height position's display can be precise to 0.05mm to improve efficiency and product quality.
Intelligent Manufacturing Redefine Your Future!
UPPER ROLLER UNIVERSAL
- Adjustable in horizontal direction with pre-bending, finished product with super accuracy
- Various bend shapes, correct the shape of formed workpiece, need no extra equipment
- Hydraulic structure with CNC controller
- Bend tube-shaped, arc-shaped or tapered work parts at normal temperature
- SW11SNC upper roller universal three rollers rolling machine is a good choice for people who want to bend large and thick plate (usually >16×2000)
- Upper roller universal three rollers can be used to manufacture wind power tower, petroleum Pipeline and pressure vessel, etc…
Advantages and Difference:
- The top roller of 3 roll bending machine can lift to change the curvature of plate.
- Horizontal direction move of the top roller can change the symmetry position of axes line vertical surface of top roller and two bottom rollers, thus meeting the technical requirement of plate end bending and other metal bending.
- Universal 3 rollers bending machine can complete two end of plate pre-bending and shaping at the same time without return.
- Up roller 3 rolls plate bending machine is controlled by CNC system.
- End pre-bending with high accuracy and finished product with super accuracy
- Various bend shape. Bend tube-shaped, arc-shaped or tapered work parts at normal temperature
- Correct the shape of formed workpiece
- During the production, do not need extra equipment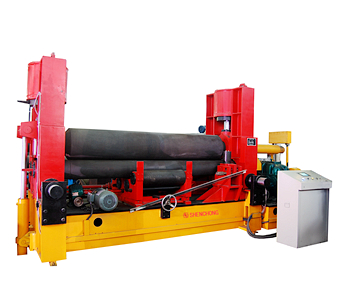 Upper Roller Universal Three-roller Bending Roll Components:
- Upper roll and Lower roll
- Bearing and Seals
- Machine main frame and side frame
- Main motor and auxiliary motor
- Main reducer and auxiliary reducer
- PLC programmable controller with touch screen and displacement sensor (rotary encoder)
- Electrical components
- Hydraulic components: pump, valve, cylinder…
Applications:
- Better for thick sheet metal plate rolling
- Upper roller universal three-roll plate rolling machine is used in the normal temperature to roll the steel plate into the type of cylinder, cone, multi R, U and R-type.
- It is applicable to process and roll circular and conical tank and other parts
- This 3-roller plate bending roll is a necessary equipment for the manufacturing industry of machinery and equipment such as petroleum, chemical industry, cement, shipbuilding, boiler, aviation, water conservancy, transmission and transformation tower, etc.
Welcome to check with other related machines:
Four Roller Plate Bending Roll
Three Roller Plate Bending Roll