4 Roller Plate Bending Roll Machine is the first choice of the durable intelligent equipment for profile and arc rolling. Four-roll bending rolling machine can mass produce precision parts effectively and decrease process cost per part. The left and right frames are the main body of the four roller bending machine, and the welding structure is adopted and installed on the whole welding base. All the operations perform on the operating table.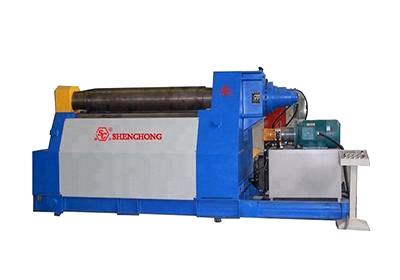 CNC 4 Roller Plate Bending Roll Machine
- The upper roller is the main roller, the lower roll and the side roll are driven rollers. The rotation is driven by the friction force between the steel plate and the rolls.
- The upper roller is fixed only for rotation motion, and it does not move up and down.
- The lower roll and the side roll can be moved up and down, all of which are moved up and down by its left and right cylinders.
- Turned and reset of the front roller bearing body is carried out by the oil cylinder.
- Each 4 roller bearing body and oil cylinder are installed in the frame of the left and right ends.
4-Roll Bending Machine Working Principle: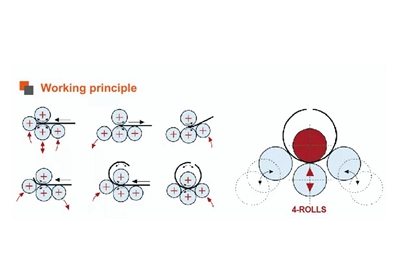 4 Roll Plate Roll Bending Machine Advantages and difference:
- The upper roller is main drive roller, bottom roller and two side rollers make vertical movement to tighten the plate.
- Vertical movement close to upper roller adjust circle radius.
- Small straight edge of pre-bending.
- High rolling precision.
- Roll taper workpiece with full generatrix
- Rollers moving position control by computer.
- Highest rolling efficiency and capacity.
Compared with the symmetric three roll bending machine
CNC 4 roll bending machine can directly bend the end of the sheet directly without any other equipment, and the remaining straight side is smaller.
Compared with the asymmetrical three roll bending machine
CNC 4 Roller Plate Bending Roll can roll the plate sheet without turning it. It not only improves the efficiency, but also ensures the quality of the work piece, and the process is simple, the operation is convenient, and the labor intensity of the workers is lightened.
4 Roller Bending Process
- Operate upper roller to make the distance between up buss and down buss a little larger than plate thickness, then operate the feeding side roller to make distance between side roller's up buss and down roller's down buss keep in same level, lastly operate the other side roller to make its position between up and down roller.
- Feeding: horizontally feed the plate to make plate end touch with ventro-side roller wholly, then low the side roller to original position.
- Clamping plate tightly and start pre-bending.
- Use ventro-side roller to pre-bend the other side of plate, after finish pre-bending the left side, then low the back side roller to original position; then operate the upper roller to bend the plate to the right position shown on drawing, then stop the upper roller, lastly operate the ventro-side roller up to bend the other side of plate.
- Principium bending: adjust ventro and back side roller to appropriate position, operate the roller to do principium bending.
- Figuration bending: adjust ventro and back side roller to appropriate position, operate the upper roller to do figuration bending.
- Take out the workpiece: after finished whole bending, low the down roller to the lowest position, then workpiece gradually lower with the two side rollers to an appropriate position, overturn the head, lifting the workpiece, remember to keep same level with upper roller to discharge the workpiece.
4 Roller Plate Bending Roll Components:
- Left and right framework
- Overturn head
- Upper roller part
- Down roller part
- Side roller part
- Connecting part
- Welded base
- Driven part
- Hydraulic part
Four Rollers Plate Roll Bending Machine Applications:
CNC plate rolling machine has a strong ability of rolling small circle, the general rolling machine with the highest rolling efficiency and ability, which is suitable for higher standards.
Used in aviation Industry and high precision machinery manufacture etc…
4 Roll Plate Rolling Machine Shipment:
As the experienced CNC plate rolling machine factory, Shenchong exported four roller plate rolling machine to more than 70 countries globally over 20 years. We have different models of 4 rolls sheet metal rolling machine for sale, contact us today!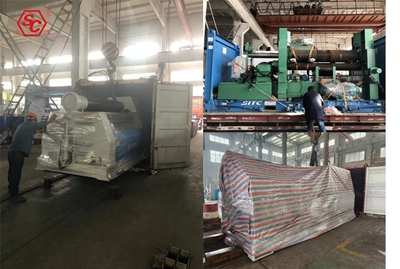 FAQ -

Four Rolls Rolling Machine For Sale
Q: How to get a 4 roller plate rolling machine quotation from SHENCHONG?
A: Every customer can get direct sheet metal plate 4 roller rolling machine price from us. Shenchong is one of the largest plate bending roll manufacturers, and we can offer you detailed technical proposal and price. Please provide us your plate material type, max thickness and max width. Also, it will be helpful if you can send us your workpiece drawings or related bending requirements.
Q: What's the 4 roller plate bending roll machine shipping cost from China to your country?
A: We can send the plate rolling machine to your port or door address by sea or rail, and so please kindly tell us your nearest port. We have reliable shipping agent to insure the safe convenient and time delivery.
Q: Do you accept LC payment?
A: Yes, normally our payment is 30%+70% T/T, LC payment is also acceptable. Our 4 roller plate rolling machine price is affordable, contact with us today!
Q: Do you have four roller plate roll bending machine installation and training service?
A: Yes, Shenchong is a reliable China plate bending roll manufacturer with full exporting experiences. Installation Services are available with all our machines. We dispatch technician to customer's factory for installation and pre-operation of the cnc plate roll bending machines. (Customers only need to pay the airfare and hotel)
We provide detailed machine user manuals and train videos, or customers can set a video call with our sales and engineers. Our technician is available to your factory and offer training of how to use our 4 roller plate rolling machines. The buyer needs to afford plane tickets. As well, you may send your technician to our company to learn how to operate machines.