Sheet Metal Storage System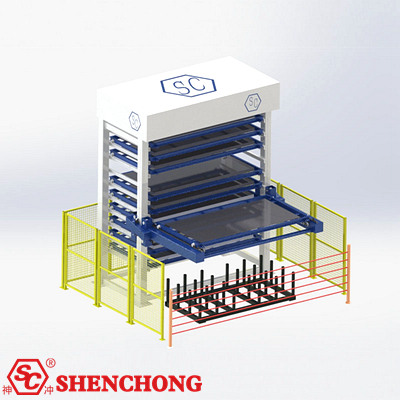 Intelligent Sheet Metal Storage System is used to manage raw materials and finished products.
Sheet Metal Storage System + Double Beam Rack Loading and Unloading Machine + Laser Cutting Machine Combination, realizing unmanned automatic cutting process: the sheet metal plate automatic exit the storage system and feed into laser cutting machine, automatic unloading and automatically separate the finished products and waste, and finally feed the products into the storage system.
Intelligent Manufacturing Redefine Your Future!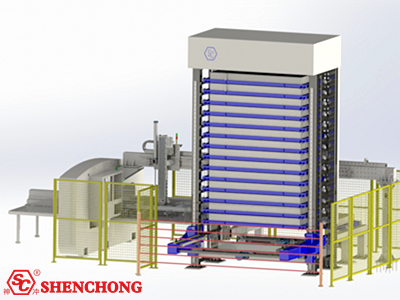 Automatic Sheet Metal Storage Tower Advantages and differences:
MULTI-LAYER STORAGE SYSTEM (SINGLE STORAGE SYSTEM)
- There are multiple layers of SHENCHONG Intelligent Storage system, which are used to classify and store plates. It is controlled by the computer, intelligently selects the plates of each layer, and automatically transports the sheets during the production process.
MULTI-LAYER STORAGE SYSTEM (MULTI-STORAGE SYSTEM)
- Multi-layer Storage System (multi-storage system type) can be connected with laser cutting machine, shear center line, automatic punching center, robot automatic press brake, rolling center, various forming lines, automatic welding production line, spraying line and other automatic production lines as an unmanned factory.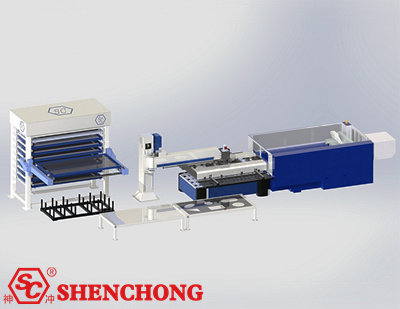 Obvious advantages: fast, economic and intuitive
- Provide maximum flexibility and efficiency for your work place
- Intelligent Sheet Metal Warehouse to improve storage security and safety operation
- Saving storage space and handling time
- Material protection
- Material handling to improve manufacturing process
- Easy and clear production management
- Flexible independent of manufacturer and integrated processing machine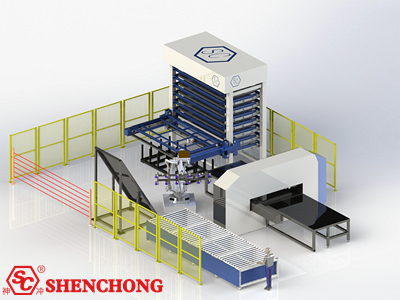 Automated Sheet Metal Storage System Applications:
- Intelligent sheet metal storage system is used to classify and store all kinds of metal plates, control the entry and exit of the plates through the computer, intelligently select each layer of plates, and connect with the enterprise's MES system.
- Various types of automatic storage warehouses are suitable for metal plates of different shapes, thicknesses, widths, lengths and weights.
- It can connect with the laser cutting machine, the cutting center line, the robotic press brake, the automatic punching center, other equipment in order to provide raw materials and store finished materials.