Plate Shearing Automatic Production Line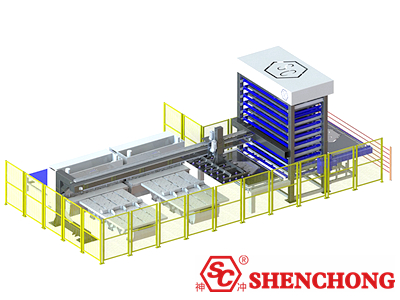 Shenchong automatic loading and unloading system cooperate with CNC hydraulic guillotine shearing machine or front feeding shearing machine to form a flexible automatic production line.
It has the ability to connect other intelligent automation equipment, such as sheet metal warehouse.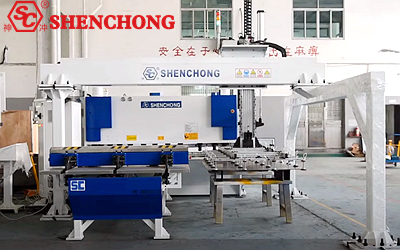 Intelligent Manufacturing Redefine Your Future!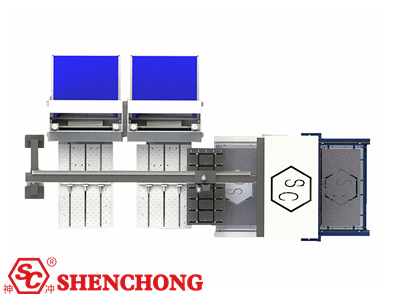 Sheet Metal Shearing Machine Automatic Production Line Advantages and differences:
Front feeding device and loading & unloading system automatically complete the whole process from loading, positioning, cutting to blanking.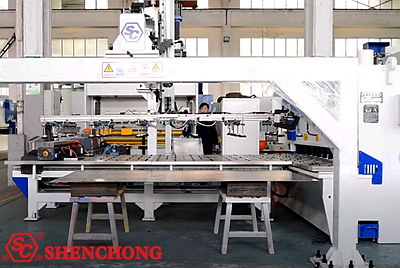 - Unmanned 7 * 24 all day sheet metal shearing
- Improve work safety and quality
- Reduce the risk of injury and labor intensity
- Lower labor demand and less working hours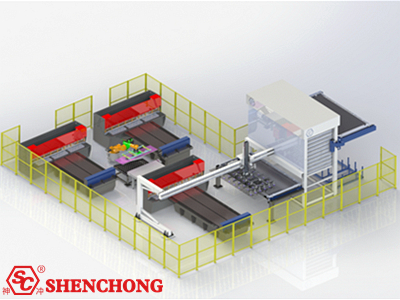 Automatic Plate Shearing Unit Features:
Automatic plate shearing machine can greatly improve the automation level of sheet metal processing industry.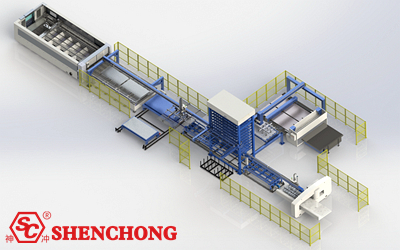 - Combine with CNC bending machine, laser cutting machine, automatic loading and unloading equipment, intelligent storage system and management software
- Connect with ERP, inventory and management are clear
- Improve the safety level of plate cutting production
- Reduce labor intensity of workers
- Improve the safety of factory production
- Reduce manual operation and working time
SHENCHONG Automatic Plate Shearing Line FAQ:
Q: How to get an accurate plate shearing production line price from SHENCHONG?
A: Every customer can get sheet metal auto shearing machine price from us. Please provide us the details of your sheet material, max thickness and max width, what kind of machine do you want to connect. Shenchong automatic plate shear machine can not only connect with sheet metal storage system, but also it can connect with any other sheet metal processing machine. We have our own engineer team to design the technical propsal for you. Also, it is best to provide us your factory site space, and we will try best to design the most suitable technical proposal for you.
Q: What's the shipping cost from China to your country?
A: We can send machine to your port or door address by sea or railway. please kindly tell us your nearest port or address with postcode. we have reliable shipping agent to insure the safe convenient and time delivery. SHENCHONG is a professional automatic metal plate shearing machine manufacturer, we will provide the best shipping proposal.
Q: Do you offer teaching & training?
A: Yes, after our engineers install and adjust the automatic metal shearing line for you, they will also teach your workers how to operate the machine and how to do the daily maintenance.
Q: Do you offer after sales service?
A: Yes, during the guarantee period, Shenchong responds within 60 minutes after receiving the customer's failure notice. If the on-site service is required, we appoint professional and technical personnel to provide services such as consulting, maintenance and replacement of parts, and timely fill in the maintenance report (including the maintenance report (including the maintenance report (including The cause of failure, treatment and buyer's opinions, etc.).
SHENCHONG will remotely guide the customers in the maintenance and repair of all equipment and software of the project at the 6th and 12th months after the completion of project delivery.