The technical engineers of Wuxi Shenchong are debugging the ABB robotic press brake machine for pattern metal plate automatic bending in the customer's factory.
1. Patterned Metal Plate Automatic Bending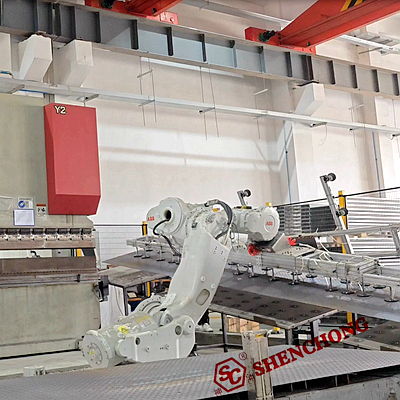 Metal patterned plate:
The application of patterned boards is still very common nowadays. Such a metal steel plate can ensure good anti slip effect. And it also has a good decorative effect. In addition, there are many types of combination patterns, which can also be customized for processing. So it can also meet the needs of different environments.
In fact, the main function of patterned boards is to have a certain anti slip effect, and the decorative effect is also good. Its anti slip and bending resistance are both quite good. Moreover, due to its reasonable design, it can also save a certain amount of steel investment. Ensure good application results while maintaining a high cost-effectiveness ratio.
It can generally be used as a floor for carriages, factory buildings, escalators, or as a pedal for some work racks.
Patterned Metal Plate Automatic Bending: ABB Robotic Press Brake Machine:
2. Shenchong Robotic Press Brake Machine Debugging Service
We have our own robot commissioning engineers so we can provide service anytime when you need. There is no need to wait for third-party services. SHENCHONG will directly install and commission the press brake machine and robot for you, with higher precision and faster service!
We provide detailed machine user manuals and train videos, or customers can set a video call with our sales and engineers. Or we can send our engineers to your company to train you.
Please provide us the details of material, max thickness and max width. Also we need you provide us your workpiece drawings, and we need to check bending details.