On February 10, 2018, 2WE67K CNC Tandem Press Brake was officially put into use in Italy.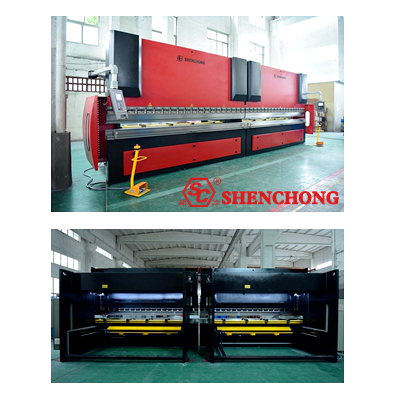 Tandem CNC Hydraulic Press Brake Machine Detailed Information
- 2+4 Axis
- 160ton 4000mm
- DA52S control system
Italy Tandem CNC Hydraulic Press Brake Machine 2X160ton 4000mm, two press brakes linkage with 2 + 4 axis automatic synchronous push function.
- The worktable and slide block have the functions of deflection and monitoring synchronous compensation, which are all closed-loop control.
- Through the tandem cnc press brakes, different length plates can be bending out of the same angle at one time. In addition, there is no need to adjust and set parameters in the computer.
- The hydraulic system and electrical control system are equipped with temperature control devices.
- The press brake molds of SHENCHONG adopts the non trace die.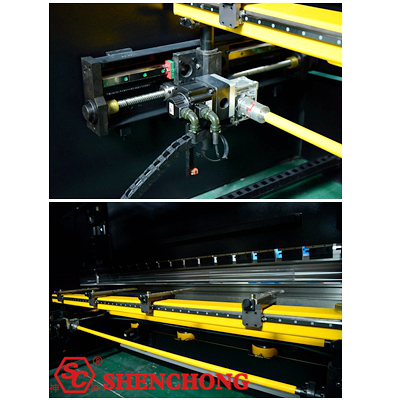 Italian customer visit CNC press brake factory
From May to October 2017, after 5 months of machine tool design and manufacturing, Wuxi Shenchong Forging Machine Tool Co., Ltd. passed the acceptance inspection of double-linkage Cnc tandem press brake by Italian customers on October 20th.
Then, the heavy duty bending machine is exported to Italy factory. After installation and commissioning on February 10, 2018, the equipment was put into use.
CNC Tandem Press Brake Work
- The two machines can bend together or work separately
- Every unit has a CNC system, the Y1, Y2 on every unit can be single programmed so it can be deflect bending
- Sandblasted and sprayed with anti-rust paint; the machine frame is processed by imported CNC three-dimensional processing center, which ensures the parallelism and verticality of each installation
- Adopts hydraulic transmission, making the operation smooth and reliable
- The back gauge X axis adopts ball screw, linear guide transmission, digital AC servo motor drive, and the back gauge has the back control function