Automatic Steel Coil Slitting Machine Line For Sale
Steel Coil Slitting Machine Performance and Characteristic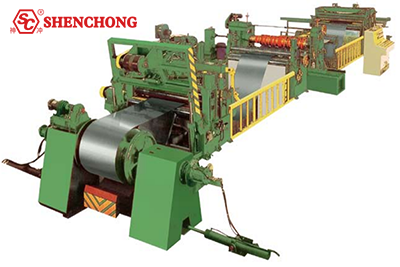 Sheet metal steel coil slitting machine is used to shear the steel coils of standard width by slitting vertically to certain sized steel strip to coiI. The strip coils can be the materials of rolling, welding pipe, and cold bending punch. To change cutter of various materials, automatic steel coil slitting machine line can shear many kinds of non-ferrous metal strips.
Standard devices: charging cart, uncoiler, feeding machine, straightening machine(plate shearing machine), slitting shearing machine(reserving house), slice coiler, material distributing device, coiler, discharging cart, hydraulic system, and electro-pneumatic system. The electro-pneumatic system adopts import PLC controller and touch-sensitive screen to controI alI the functions. The main motor of steel coil automatic slitting machine adopts DC motor from British Eurotherm Corp, which has features of high automation, good quality of straightening, high precision of shearing and cutting, reIiabIe and stabIe function, and easy operation and maintenance etc.
Automatic Slitting Machine Technical Parameter
Thickness

Width

Volume Weight Materials

FinishedWidth

Shear of The Few

Shear

Speed

0.3-2mm

900-1550mm

30T

≥40mm

≤20

60m/min

0.5-4mm

900-1550mm

30T

≥60mm

≤13

50m/min

1-6mm

900-1550mm

30T

≥60mm

≤10

40m/min

2-8mm

900-1800mm

30T

≥70mm

≤6

30m/min

3-10mm

900-2500mm

30T

≥80mm

≤5

25m/min

3-12mm

900-2500mm

30T

≥100mm

≤5

20m/min
High Speed Slitting Line For Sale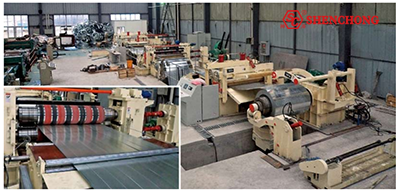 High Speed Slitting Machine Line General Description
This automatic high speed slitting machine production line is along the length direction of the coil material shear into several narrow coils with certain width, for after rolling, welded pipe, cold bending forming, stamping process.
High speed slitting production line for steel coil adopts the high precision hydraulic elements and dc controller adopt international famous brand. The whole line is designed with high automation, good synchronization performance and cutting precision, high production efficiency and stable performance so as to easy to maintain and operate.
High speed steel coil slitting line speed reaches to 0-120m/min.
High Speed Slitting Line Technical Parameter
| | | | | | | |
| --- | --- | --- | --- | --- | --- | --- |
| Model | Thickness (mm) | Coil Width (mm) | No. of Slitting | (±mm /m) | Line Speed (m/min) | Coil Weight (T) |
| 1x850 | 0.3-2 | 150-850 | 10-30 | 0.03 | 0-120 | 5,10 |
| 2x850 | 0.3-2 | 300-850 | 10-30 | 0.03 | 0-120 | 5,10 |
| 2x1300 | 0.3-2 | 500-1300 | 10-30 | 0.03 | 0-120 | 10,15 |
| 2x1600 | 0.3-2 | 600-1600 | 10-30 | 0.03 | 0-120 | 15,20 |
| 3x1300 | 0.4-3 | 500-1300 | 8-30 | 0.03 | 0-120 | 10,15 |
| 3x1600 | 0.4-3 | 600-1600 | 8-30 | 0.03 | 0-120 | 15,20 |
| 4x1300 | 0.5-4 | 500-1300 | 6-25 | 0.05 | 0-120 | 10,15 |
| 4x1600 | 0.5-4 | 600-1600 | 6-25 | 0.05 | 0-120 | 15,20 |
| 6x1600 | 1-6 | 600-1600 | 5-20 | 0.05 | 0-100 | 15,20,25 |
| 6x2000 | 1-6 | 800-2000 | 5-20 | 0.05 | 0-100 | 15,20,25 |
Other machines you may be interested in:
Metal Slitting Line Working procedure:
In the beginning, the coil is loaded on the coil car by crane and brought to the uncoiler by operating the coil car. Coil car centralizes the coil with the uncoiler mandrel and the coil is mounted on the uncoiler. Mandrel is expanded. Snubber roll rotates the coil. Peeler breaks the straps and brings the pre end upto Pinch roll. The Pinch roll drives the coil end upto the slitter. Then its drive is disconnected. Slitter moves the slitted strips further. Slitted strips are threaded through loop table and drag tensioner into the recoiler drum. Recoiler winds one turn on loose coil.
Then drag tensioner and loop are put into operation. Slitter and recoiler run simultaneously in synchronization. As the coil build up, the recoiler rpm correspondingly goes down to keep desired constant line speed. This process goes on until the end of coil on uncoiler. The slitted coil is pushed on the exit coil car through a pusher plate operated by hydraulic cylinder. The side slitted scrap is wound on the scrap winder units provided on both sides of the slitter.
Q&A
Q: Why your steel coil automatic slitting machine price is higher? We have received many much cheaper offers from Jinan factories.
A: SHENCHONG automatic slitting machine feature is design like Europen brand machine.
We always produce high quality level machines that few factories can copy because we have experienced engineers which are limited source in this field.
So if you need to use slitting machine for steel coil to do many cutting work, our machine is a better choice for you.
Q: Can you produce the machine faster?
A: Every customer hope to receive the machine in short days, but high quality level machine is not simply assemble parts together and deliver it to customer. Long-term machine stability depends on strict quality control, and inspection and testing work needs enough time. Shenchong cnc slitting machine with high quality need enough production time but we will try our best to produce and delivery the machine as quick as possible.
We mainly rely on old customers recommend our machines to others to expand business. The machine quality we produced are best advertisement for us.
Q: How long of your warranty?
A: We offer 1 year warranty. Warranty service costs money if the supplier really do free service. We don't understand how can a company offer cheaper price and longer warranty at same time, unless the supplier just talk about it and play words game. International parts delivery, air ticket…. not cheap at all, we do spend much money on service after sales, we seriously do as we said.