WC67K Hydraulic NC Press Brake
Hydraulic NC press brake machines have torsion bar synchronous NC two axis control capability. They are suitable for bend parts at low cost price. NC torsion bar synchrony hydraulic press brake is good for bending sheet metal plate in the factories.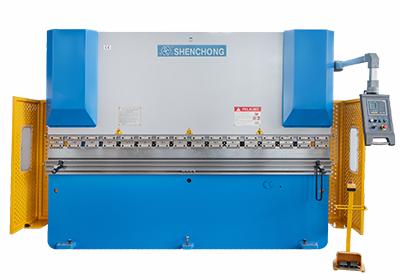 NC Press Brake Machine For Sale
Bending capability: 63-500 Tons
Bending length: 2500-6000MM
Intelligent Manufacturing Redefine Your Future!
You can also check with our hybrid press brake or CNC press brake for more press brake machine models.
SHENCHONG Hydraulic NC Press Brake Machine Advantages and differences:
The entire machine is in fully steel welded structure with stress eliminated by vibration aging technology. The machine mainly consists of the left and right wall boards, working table, oil box, slot steel, synchronizing shaft, sliding block, etc.
It enjoys high accuracy and high strength and can be transported easily. Machine tool have the function of point move, single and continuous, fast and slow area distinguishing slider. Area can be adjusted independently.
NC Press Brake Machine - HYDRAULIC SYSTEM
The hydraulic press brake adopts integrated hydraulic control system which limits the quantity of pipe connections, thus being more reliable and easy for maintenance.
NC Press Brake - SNYCHRO CONTROL SYSTEM
It also adopts steel torsion bar synchro system with very simple structure but very high accuracy. At both ends of the sliding block, there are 2 synchro folks which make the sliding block movement always parallel to working table. This structure highlights a balanced movement effect during operation. Upper die compensation is used to improve the brake precision.
Hydraulic NC Press Brake For Sale Standard Components:
- Traditional structure by using the torsion bar synchronize Y axis
- Standard 3 axis X, Y, R.
- Standard DELEM DA41 or E21 controller.
- Ball screw and linear guide.
- Backgauge controlled by servo motor.
- Standard Lion light curtain protection.
- Upper punch compensation.
- ESTUN E21 NC Control Unit
- FIRST Valves (U.S.A)
- Full length multi V die series of 835mm punches with a fractioned on
- NOK Seal Ring Side and Back
- Protection Device
- X,Y-Axis Servo Motorized Back Gauge
- High Speed Servo Back Gauge
- Mechanical crowning system managed by Manual
- SHENCHONG Top & Bottom Tool Clamps
- Electrical cabinet with Electrical cabinet with Telemecanique Schneider, Esautomotion, ABB components
NC Press Brake Machine Applications:
It is a cost effective choice in steel structure industry, rough machining factories, truck manufacturing industry etc…
Due to the structure limitation, Wuxi SHENCHONG does not recommend customer to choose torsion bar synchronous press brake when they buy model above 400tons.