Adjustable and precise shearing has just gotten easier. NC hydraulic shearing machine is equipped with the best materials for optimal support and incredible performance ensuring a smooth production process. It provides high strength, productivity, sensitivity, and safety while lowering your production cost and improving your bottom line.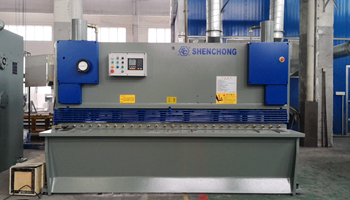 NC Hydraulic Guillotine Shears
This hydraulic shearing machine is the second generation hydraulic guillotine plate shears.
Use advanced hydraulic integrated valve block. The structure is compact, the pipe connection is reduced, and the reliability and maintainability of the system are improved.
Intelligent Manufacturing Redefine Your Future!
Advantages and differences:
- The welding machine adopts full steel structure (wallboard, workbench, tool body two times tempering, stress relieving). The vibration of the welding part eliminates the stress, and has good rigidity and stability
- The tandem cylinders ensure shear angle will not change
- The three point support rolling guide structure
- The blade carrier adopts tilting structure, easy blanking, and can improve the accuracy of plate shear. It can be piecewise shear (adjust the liquid crystal display time)
- NC Guillotine Shearing Machine has rectangle shape blade with four edges, exchangeable for using with long working life
- Cutting angle adjustment
- The blade clearance is adjustable and with high quality
- Practical and Cost-effective
- Simple operation, high shearing efficiency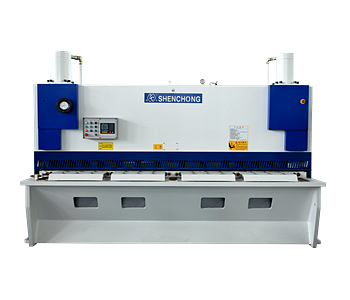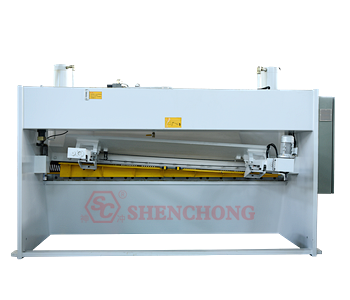 NC Plate Shearing Machine Components:
- Rapid and precise blade clearance adjustment with a single handle on the side frame
- Multi-edge blades for cutting aluminum, carbon steel, and stainless steel
- Cutting-line illumination and wire for shadow-line cutting
- Stroke counter
- Quick cutting-length adjustment
- Hydraulic and electrical overload protection
- Bed infill plates with ball transfers
- Delta inverter with ball screw and polished rod with 0.01 mm accuracy
- Backgauge adjustment according to blade gap
- Backgauge retraction feature
- Squaring arm and front support arms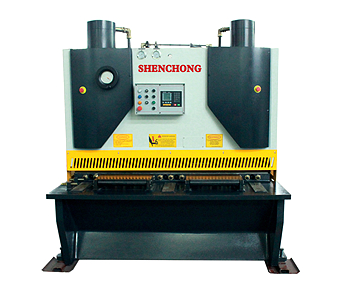 ESTUN E21S NC control system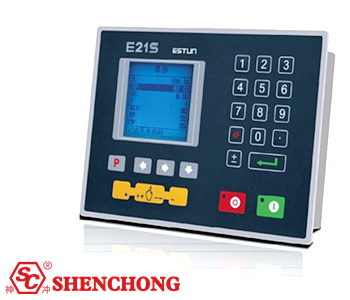 1. High definition LCD screen: Chinese and English are available. One page displays the programming parameters. Writing programs is faster and more convenient.
2. Back gauge: Intelligent positioning. Manually adjusted as needed.
3. Shear stroke: built-in shear time relay. Easy to operate. Cost savings.
4. Shear angle: built-in shear angle adjustment function.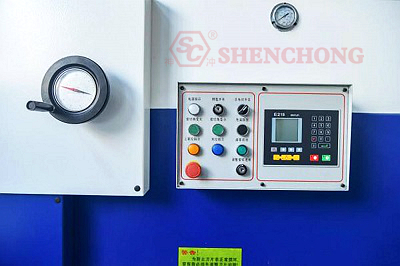 5. Blade gap: encoder feedback. Real-time display of blade gap size. Easy to operate.
6. Parameter one-button backup and recovery function. Parameters can be restored at any time as needed. Reduce maintenance costs.
Applications:
Factories normal cutting requirements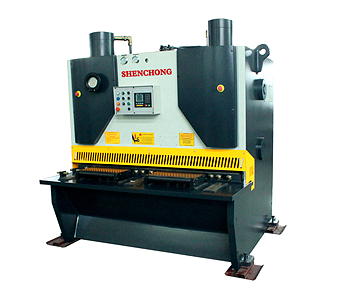 Click here to know:
Front Feeding Shearing Machine
NC Hydraulic Guillotine Shear FAQ
Q: How to get cheap NC shearing machine for sale?
A: As an original shear machine manufacturer, we give back the best price to our customers. Factory direct sales, no middlemen to earn the difference.
With such a low price to buy an ultra-high precision NC shearing machine for sale, this cost-effective is super high! Wholesale, multiple orders, more favorable price! We guarantee that each sheet metal NC shearing machine for sale is brand new and never used with complete factory warranty.
Q: Why buy a new NC hydraulic guillotine shearing machine?
A: As the best plate shearing machine manufacturer in China, Shenchong provides excellent sheet metal cutting quality, super cutting accuracy and convenient and quick operation NC hydraulic guillotine shear machine for sale.
If you buy a manual shear machine or swing beam shear machine, the accuracy of shearing and the quality of cut surface will be greatly reduced.
If you buy a second-hand/used shearing machine, you will often have problems in production, and the service life of second-hand machines is short.
SHENCHONG NC hydraulic guillotine plate shear machine for sale provides high strength, productivity, precision, and safety.
Q: Why choose Shenchong guillotine shearing machine for sale?
Shenchong as one of the top 3 hydraulic shearing machine brands from China with full experience in exporting and excellent global market reputation. Shenchong cnc plate shearing machine for sale has ISO9001, CE and all other certifications as quality trust endorsement.
As leading company in guillotine shearing machine industry, Shenchong keeps innovating in CNC and NC hydraulic guillotine shears details to improve cutting precision and linear. Has always been imitated, but never been surpassed.
Direct factory price and experienced over-sea after sales team not only provides best price but also eliminate customers' concerns about any shearing machine problems.